Pottery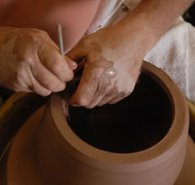 Located in historic Edgefield, South Carolina, the Professional Clay Program is designed to offer a comprehensive education in the craft of pottery, and in the discipline of making a living doing what you love.
Featured Profile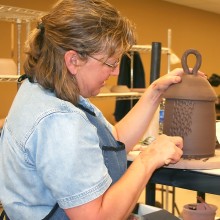 Pottery Major
Graduation Date: December 2010
It is the dream of every artist to be accepted into a gallery to display their work. Laura Bachinski has achieved that dream.
Whether you're interested in traditional pottery or contemporary design, ample studio time and in-depth, one-on-one instruction will provide you with the opportunity to sharpen your skills and to develop your voice and identity as a clay artisan.
Cutting-Edge Facilities
Because of the program's singular focus on clay, you'll be able to pursue your craft at a depth that will help you explore and fine-tune your own, personal style. Under the guidance of a master potter, you'll get hours of studio experience and attain a level of technical expertise unavailable anywhere else in South Carolina.
The modern, 15,000 square foot pottery studio includes a dedicated throwing room, a handbuilding area, a glaze making and testing room, a glazing room with spray booth, a photography room, lecture space and a computer lab.
Equipment includes:
Wheels
9 Shimpo whispers
9 Brent cxc
2 kick wheels
Kilns
4 Skutt electrics
1 gas car kiln
1 raku kiln
Gas / Wood Kiln
Other Equipment
Solder mixer and Venco de-airing pugmill
Ball mill
Three extruders
30" Slab roller
Learn in a History-Rich Environment
In addition to its antebellum past, its role in the Civil War and Reconstruction and its politics, the old Edgefield District is recognized widely as the birthplace and earliest center of the alkaline-glazed stoneware tradition in the southern United States. This unique pottery has become nationally known and highly sought after. Pieces are eagerly sought by private collectors and located in major museums and significant private collections.
For more information on the Edgefield Pottery Tradition: 
Locations: