Occupational Therapy Assistant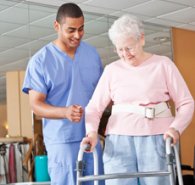 As only one of three two-year programs of its kind in South Carolina, Piedmont Technical College's Occupational Therapy program is a great option for students seeking this in demand training in the Upstate and Midlands.
Career Information
Career Tracks:
Median Salary: $53,240
Salary Range: $32,970-$73,120
Entry Level Positions:
Occupational Therapy Aide
Occupational Therapy Assistant
Program Information
Occupational therapy assistants help patients who are recuperating from brain trauma, surgery, disease, dementia, or who need rehabilitation to develop, recover and improve the skills needed for daily living and working. OTAs work directly with an occupational therapist to develop and implement a treatment plan for each patient.
Demand for OTAs is expected to rise significantly in the coming decade in response to the health needs of the aging baby boomer population. 
Piedmont Tech's program is offered at the college's state-of-the-art campus in Newberry.
Career Outlook
According to U.S. Bureau of Labor statistics the median annual wage for Occupational Therapy Assistants was $53,240 in 2012. The Bureau of Labor projects that OTA jobs will increase from 30,300 in 2012 to 43,200 in 2022 – an increase of 43 percent. The job outlook for this occupation is far above average.
Learn More: Visit Piedmont Technical College's Career Coach site for more in-depth career information related to this program. For national career information, visit the U.S. Bureau of Labor Statistics.
Accreditation
The occupational therapy assistant program has applied for accreditation and has been granted Candidacy Status by the Accreditation Council for Occupational Therapy Education (ACOTE) of the American Occupational Therapy Association (AOTA), located at 4720 Montgomery Lane, Suite 200, Bethesda, MD 20814-3449. ACOTE's telephone number c/o AOTA is (301) 652-AOTA and its Web address is www.acoteonline.org. Once accreditation of the program has been obtained, its graduates will be eligible to sit for the national certification examination for the occupational therapy assistant administered by the National Board for Certification in Occupational Therapy (NBCOT). After successful completion of this exam, the individual will be a Certified Occupational Therapy Assistant (COTA). In addition, most states require licensure in order to practice; however, state licenses are usually based on the results of the NBCOT Certification Examination. Note that a felony conviction may affect a graduate's ability to sit for the NBCOT certification examination or attain state licensure.
Click to learn more about ACOTE standards
The new occupational therapy assistant program is pending SACS-COC approval. 
National Board of Certification for Occupational Therapy (NBCOT) Results
The performance of Piedmont Technical College OTA Program Graduates on the National Board for Certification in Occupational Therapy (NBCOT) certification examination may be found here.
Locations: