Associate Degree Nursing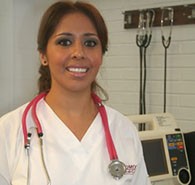 The Associate Degree in Nursing (ADN) program enables students to become caring registered nurses, committed to lifelong learning and service. The program provides students with knowledge, skills and attitudes needed to apply the nursing process to individuals and families across the life span in a variety of settings.
Featured Profile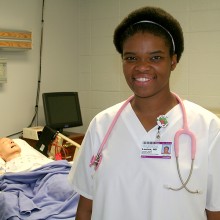 Associate Degree Nursing Major

"With Piedmont Tech, it's like a family here," she said. "You get to know the faculty and staff and that makes you feel more comfortable about going to school. When you feel comfortable, it tends to show in your study habits and your grades. When that happens, you graduate and you can succeed in your chosen career."
A supply of well-qualified nursing staff is essential for quality health care. This ongoing need presents graduates of Piedmont Tech's Nursing programs with a wealth of employment opportunities, and with excellent earning potential.
Piedmont Tech's Associate Degree Nursing (ADN) program is approved by the SC Board of Nursing and accredited by the Accreditation Commission for Education in Nursing (ACEN). The nursing program at Piedmont Technical College prepares graduates to take the licensing examination, NCLEX, to become a registered nurse.
Clubs & Organizations
Resources
Career Information
Registered nurses may be required to assess patients, plan and implement care, record patients' conditions and reactions to treatments, administer medications and perform treatments and provide teaching to promote and restore health
Nursing Program Surveys:
Locations:
More Photos
Video