Why Starting at a Technical College Makes Sense – Now More than Ever
Feb
05
2013
We all know how tough the job market has been for the last few years, and though it's been showing signs of improvement, one fact remains: a college education gets more important to personal and professional success every year.
Study after study shows that lifetime earnings are higher, and unemployment rates are lower for those with "postsecondary education," which means some form of education after high school.
According to projections by the Center on Education and the Workforce, 63% of all American job openings will require some sort of additional education after high school by 2018.
If you've spent any time researching colleges, though, you know that the cost of higher education continues to increase. The good news is that your local two-year college offers one of the best values available, and can help you achieve your goals no matter where you're headed.
The Case for a Two Year Degree
Although many automatically think of a bachelor's degree when they hear the word "college," careers that require associate degrees—and sometimes less than an associate degree—can be just as financially rewarding.
Earnings for associate degree grads can even exceed those for those with a bachelor's degree in some fields. Graduates in health care programs and in advanced manufacturing fields like the engineering technologies, for instance, can expect very healthy entry-level salaries and good earning potential down the road.
Because community colleges like Piedmont Technical College are plugged directly into the needs of local employers, students will receive highly focused, practical training in exactly the kinds of skills that are in demand in the labor market.
Graduates can be confident they have a highly marketable skill set that will lead to a good job after graduation—even in tough economic times.
And because these programs can be completed in a relatively short time frame, graduates can expect a quick return on their investment.
The Smart Path to a Bachelor's Degree
So, you can get off to a strong start with a two-year degree, but some fields will require additional education. The good news is that you can complete up to half of a bachelor's degree right at your local technical college.
Some programs, like engineering technology, even offer "stackable" credentials that lead to a bachelor's degree. That means you can start with a certificate or associate degree, go right to work making a good living, and complete more coursework when you're ready to advance at work.
With ballooning student loan debt and increasing tuition rates all over the country, the most obvious reason to consider starting at a two-year college is financial.
Also see: Tuition Cost Comparison
By completing the first two years of a bachelor's degree at Piedmont Technical College, for instance, students can save more than $15,000 on tuition alone—not to mention saving on room and board, and other expenses that come along with going straight to a four year college. In fact, depending on your financial situation, it's possible to complete your first two years with little or no debt.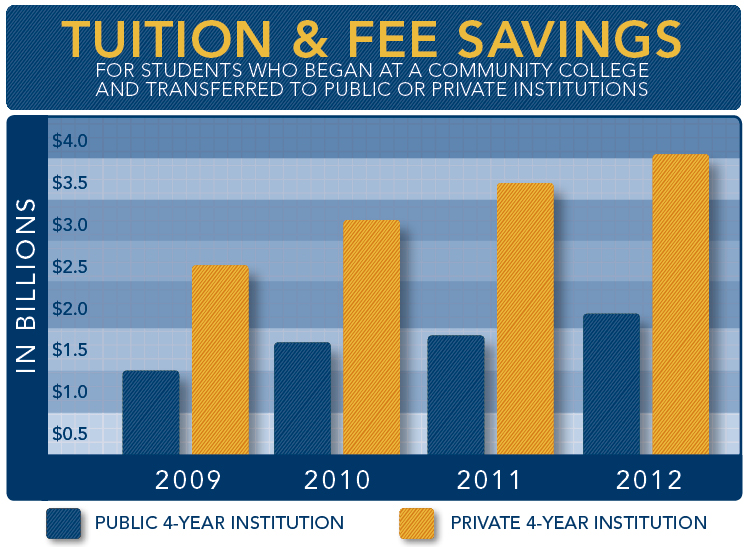 *Chart courtesy of the American Association of Community Colleges. Includes collective savings for U.S. students.
And as the chart above shows, the collective savings for transfer students nationwide are huge.
There are other benefits, too, though. Students beginning their work toward a bachelor's degree at a local community or technical college get the same flexible scheduling and convenience as those pursuing career training. Plus, in many cases, you may have a better chance at getting into your top choice of four- year schools as a transfer student.
And you'd probably be surprised at how many people go this route.
About 45% of the students completing bachelor's degrees in the United States completed some coursework at a two-year institution like Piedmont Technical College.
According to a recent study by the National Student Clearinghouse, we know that about 45% of the students completing bachelor's degrees in the United States completed some coursework at a two-year institution like Piedmont Technical College. South Carolina's average is about 44%.
We also know that the graduation rates for students who choose the transfer path instead of heading directly to a four-year institution compare very favorably to the national average and to South Carolina's top four-year colleges: about 60% for all transfer students, and 70% for those who completed a full associate degree before transferring.
And although students choosing to take the transfer path should still work closely with an advisor to make sure they're headed in the right direction, transferring credit gets more seamless all the time as community colleges continue to build strong relationships with four-year schools.
The Good News: You've Got Options
Whatever your career goals are, your local technical or community college can be an extremely valuable resource in helping you get to your destination.
Flexible scheduling, online options, and an understanding that students are often juggling work, personal and family commitments are baked right into the technical college mission. So whether you're headed into the work force as quickly as possible, or toward a four-year degree, getting your start close to home at your local technical college makes a lot of sense.
Sources:
Related Stories: