2013 College Transfer Fair
Select an events category: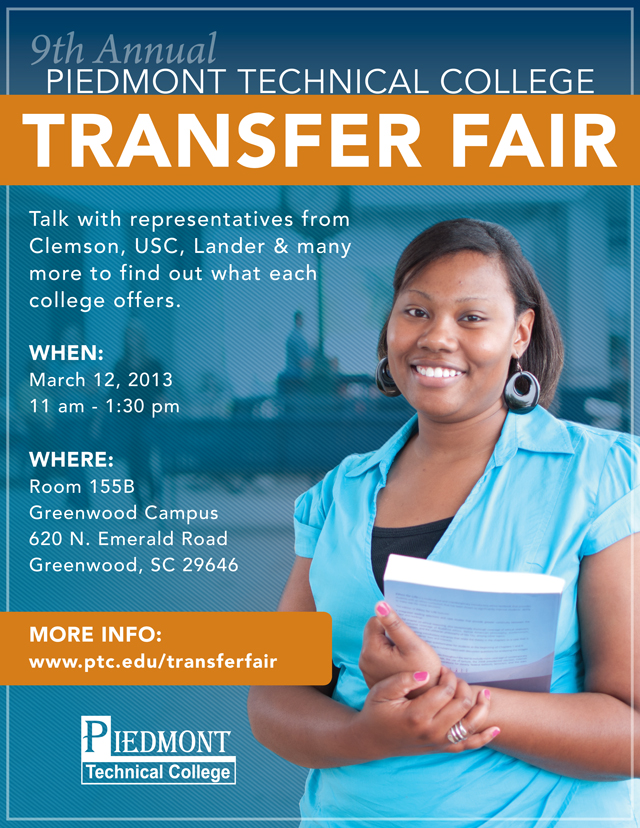 We invite you to join us on March 12 for our 9th annual College Transfer Fair to learn more about how you can jump start your Bachelor's degree by starting at PTC.
Time: 11 a.m.- 1:30 p.m.
Place: Room 155B, Greenwood Campus
For more information, call (864)941-8449.
Interested in learning more about Piedmont Technical College and our special transfer programs? PTC's transfer agreements include special bridge programs that allow students to get a taste of a four-year college while attending Piedmont Tech as well as special pathways into fields like electrical engineering, horticulture, and business.
College representatives will be on hand to answer your questions, and experts will also be available for guidance on important areas of concern such as financial aid and scholarships.
We'll be hosting a special information session for parents from 12:00 – 12:30 about how the transfer process works and the benefits of starting at PTC.
Colleges Attending will Include:
Abraham Baldwin Agricultural College

Anderson University

Charleston Southern University

The Citadel

Clemson University

Coastal Carolina University

College of Charleston

Columbia College

Converse College

DeSales University

Erskine College

Gardner-Webb University

Johnson & Wales

Lander University

Limestone College

Newberry College

North Greenville University

Presbyterian College

South Carolina Student Loan

Sherman College of Chiropractic

South Carolina State University

Southern Wesleyan University

Springfield College

Strayer University

University of Phoenix

USC

USC College of Computing & Engineering

USC School of Library and Information Science

USC Aiken

USC Upstate

USC Upstate Engineering Technology

Voorhees

Winthrop University