Pharmacy Technology (D.A.S.)
Graduates of the Pharmacy Technology diploma are health care professionals who assist the pharmacist in a hospital or clinical setting to provide quality health care related to medication administration.
In addition to the skills acquired to become a pharmacy technician, students will learn to read medication orders, mix parenteral medications, assemble unit-doses of medications and prepare 24-hour patient medication carts. Students will also learn proper labeling for oral and parenteral medications. In order to become a state certified pharmacy technician, the student must earn the Pharmacy Technology diploma, work 1,000 hours as a registered pharmacy technician, and pass the Pharmacy Technician Certification Exam (PTCE) administered by the Pharmacy Technician Certification Board (PTCB).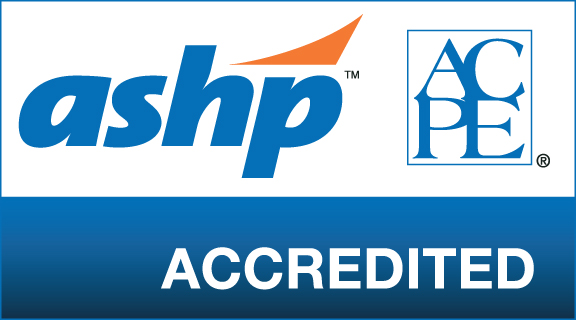 The Pharmacy Technology program is accredited by the American Society of Health Systems Pharmacists (http://www.ashp.org) 7272 Wisconsin Avenue, Bethesda, MD 20814 (301) 657-3000.
>>ASHP Pharmacy Technician Program Standards
Admission: Students who are interested in enrolling in the program should complete a Statement of Intent during the enrollment period. Once this form is complete, the Program Director will contact you to verify that you are program ready. Once verified, students will be enrolled in the program on a first-come, first-served basis.
Students are required to be CPR certified during the clinical phase of the program. Students not certified when accepted may take Cardiopulmonary Resuscitation (AHS 106) during the clinical program.
All health science programs at PTC have special program requirements, including a minimum age limit for some programs. All students admitted into the Pharmacy Tech Program must be 18 prior to entering the 3rd semester of the core curriculum.
Required Courses
GENERAL EDUCATION COURSES
 
Courses
 
Credit Hours
ENG 101
English Composition I
3.0
MAT 155
Contemporary Mathematics 
3.0
PSY 103
Human Relations OR
3.0
PSY 201
General Psychology
3.0
 
 
 
Subtotal
 
9.0
 
 
 
REQUIRED CORE SUBJECT AREAS
 
PHM 101
Introduction to Pharmacy
3.0
PHM 103
Pharmacy Law and Ethics
2.0
PHM 110
Pharmacy Practice
4.0
PHM 113
Pharmacy Technician Math
3.0
PHM 114
Therapeutic Agents I
3.0
PHM 118
Community Pharmacy Seminar
1.0
PHM 124
Therapeutic Agents II
3.0
PHM 152
Pharmacy Technician Practicum I
2.0
PHM 164
Pharmacy Technician Practicum II
4.0
PHM 173
Pharmacy Technician Practicum III
3.0
PHM 202
Pharmacological Anatomy & Physiology
4.0
 
 
 
Subtotal
 
32.0
 
 
 
OTHER COURSES REQUIRED FOR GRADUATION
 
AHS 102
Medical Terminology
3.0
AHS 116
Patient Care Relations
3.0
 
 
 
Subtotal
 
6.0
Total Credit Hours
47.0
Updated 3/31/2017
Program Student Learning Outcomes
Purpose Statement
The mission of the Pharmacy Technology program is to provide an economically flexible didactic and clinical competency based curriculum which provides students from diverse backgrounds the opportunity to master skills required to enter the entry-level job market in community and hospital pharmacy settings. This diploma program also strives to assist students in achieving personal and professional goals as well as instill life-long learning values.
Program Student Learning Outcomes:
Demonstrate knowledge and understanding of the pharmacy department, technician duties and responsibilities.
Demonstrate knowledge of pharmacy/medical terms, abbreviations, and symbols used in prescribing and dispensing medication.
Demonstrate procedures for manufacturing, packaging and labeling of drug products.
Perform calculations for dosage.
Demonstrate knowledge of dosage, route of administration and dose forms.
Perform dispensing of controlled substances as per federal and state guidelines.
Demonstrate institutional and ambulatory drug preparation and distribution.
Gainful Employment Information
Gainful Employment Disclosures
Advisement Information
Program notes
Beginning Fall 2018, students in health science and nursing majors will participate in the CAREplan: the college's Quality Enhancement Plan. Advising for these students on the Greenwood Campus will be available by appointment in the CARE Planning Center in Suite 149-A. Advisors will be available to assist students with developing Degree Plans, learning about various health science and nursing programs, and understanding program requirements and secondary program application processes. Visit www.ptc.edu/care for more details.

A secondary application is not required to be accepted into the Pharmacy Technology program, but students must be ready for ENG 101 and MAT 155 before they can take PHM 101, which is offered in Fall semesters.

General Education classes as well as Developmental and Transitional coursework can be started any semester, and can be completed on a part-time basis.  After program entry, which starts in the Fall, all PHM classes are co-requisite, meaning they will be taken as offered, and students will progress through the three-semester program with the same set of classmates.
Notes about individual classes
The English required for this program is ENG 101.  Students will follow this progression, with their starting point being determined by their placement test scores:  ENG 032/012 and/or RDG 032/012 (or RWR 032/012) > ENG 100 and/or RDG 100 (or RWR 100) > ENG 101.

The math required for this program is MAT 102.  Students will follow this progression, with their starting point being determined by their placement test scores:  MAT 032/012 > MAT 152 or MAT 101 > MAT 102.  Students falling under the 2018-2019 catalog year will take MAT 155 as their required math.  These students will follow this progression, with their starting point being determined by their placement test scores:  MAT 032/012 > MAT 155.

Information about CPT 101: CPT 101 uses Office 2016. CPT 101 students must purchase an access code for MyITLab, a learning management system. The CPT 101 access code is good for six months. RDG 100 or RWR 100 is a prerequisite for CPT 101.  An exemption test is available for students who are skilled in Microsoft office software.  Please contact MaryLou Wilson for more information about the exemption test.
Additional program notes
PHM courses are offered in the day on the Greenwood campus.  A minimum 2.0 GPA is required for progression once accepted into the Pharmacy Technology program.  Students will only have one opportunity to repeat a failed or withdrawn semester.  Two failed or withdrawn semesters will make the student ineligible to continue in the program.

Students will receive simulated pharmacy classroom and lab experience as well as retail pharmacy (and possibly hospital pharmacy) experience during clinical rotations.  Reliable transportation to clinical sites is the student's responsibility.

To become state certified, students must meet three criteria:

Graduate from a board-approved program

Work 1,000 hours in a pharmacy

Pass national certification exam
Notes about other requirements
Physical and Mental Standards: It is recommended that students explore their reaction to all kinds of body fluids, unpleasant odors, and dangerous/contagious diseases. Students must be in adequate physical and mental condition to participate and function within the program and clinical environment. Read the Health Care Division Information FAQ Sheet for the Physical and Mental Standards for Health Care programs.

Background Check and Drug Screening: Students are required to have an initial criminal background check and drug screening upon acceptance into the clinical phase of the program. A positive report on either may prevent the student from being accepted by a clinical facility, which will not allow the student to progress in the program or take the licensure exam. Additional drug screenings may occur throughout the clinical program as requested by the clinical facility. The cost of these screenings will also be the responsibility of the student.

Health Requirements and Immunizations: Students accepted into the program will be required to provide written documentation of health records.  Cost of background check, drug screen and medical records management is approximately $110.00 but is subject to change.

CPR and Hospital Orientation: All students will be required to have CPR certification by the start of clinical courses and the certification may not expire prior to the end of the semester. Students that plan to seek certification outside of the college must have Basic Life Support (BLS) training through the American Heart Association. A copy of certification must be submitted to the Medical Records management system. Annual Hospital Orientation is required.

Program Costs: In addition to tuition, fees, and books, other costs may include but are not limited to uniforms, lab supplies, malpractice insurance, review courses, licensure preparation, and graduation fees.
Semester-by-semester Graduation Plan
Contacts
You can find the name of your assigned academic advisor by reviewing Degree Works, your Class Schedule, or by visiting the Advising webpage.

Clay Sprouse is the Program Director of the Pharmacy Technology program.

Please email advising@ptc.edu if this Advising Guide needs to be corrected or updated.
Advisement Information updated/reviewed 3/2018.