Honors Program Academics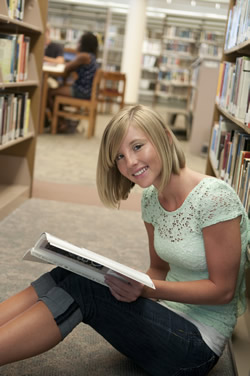 The Honors Program provides an innovative academic curriculum for outstanding students committed to distinction. Through an exploration of timely issues and timeless debates, the program offers coursework designed to foster learning through creativity and reflection.
Honors Coursework
Honors students can enroll in a specific honors course, capped at a small class size for more personal, one-on-one instruction. Honors courses will include challenging, topical coursework, taught by Piedmont Technical College's most talented instructors. 
Students must have 18 hours of honors credit in order to graduate from the program. The Freshman Leadership Seminar is the only required elective (3 credit hours). Honors courses must be taken on Greenwood campus.
Courses Offered Each Semester
*Classes are subject to cancellation if there is low enrollment.
Fall Semester 2015
Freshman Leadership Seminar
Chemistry 110 - How the World Really Works: The Chemistry Behind Reality
English 202 - Wonder Woman: Popular Contemporary Women Writers (1945 – Present)
Spring Semester 2016
Freshman Leadership Seminar
History 201 - Seeing Stars (and Stripes): Early American History
Chemistry 111 - An In-depth Study: The Chemistry Behind Reality
Philosophy 101 - Finding Oneself Outside Oneself
Transfer Opportunities
After your time as an Honors Program student, you'll be exceptionally well prepared to transfer into the four-year institution of your choice. Some institutions may allow you to transfer your PTC honors credit directly into their honors program, for a full, four-year honors experience. PTC offers a variety of Bridge and Transfer options to help prepare a seamless transition to your destination school.
Advisement Information
Students must have 18 hours of honors credit to graduate from the program

HSS 295 is a required elective (3 credit hours)

The program is designed for AA/AS students who want to transfer to four-year institutions

All courses will be offered on Greenwood campus. Courses have a 99 section # and the word "Honors" in the course title

Advisors should go ahead and advise students into other coursework while the student is applying for the Honors Program. Once accepted, they will be advised for the honors courses.

Students can contract with instructors in a particular class, but contracts must be completed in detail and given to and approved by the Director of the Honors Program prior to the start of the class. Contracts are for students who can't take an honors section because of scheduling conflicts or they have already had the honors course.

Contracts allow students to enroll in a non-honors course but do supplementary work/projects/presentations to earn honors credit. It's preferred for students to enroll in honors sections since they will be immersed in a community of scholars with other honors students. This is not a benefit they'll have if they take an honors class through contract. Encourage students to sign up for an honors section before considering a contract.
Advisement Information updated 4/20/2015