The Honors Program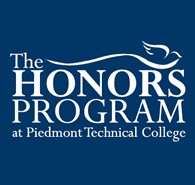 The Honors Program at Piedmont Technical College will offer a rigorous academic challenge to highly prepared students. Through an array of courses and seminars, you'll participate in community service projects, explore intriguing topics, and participate in leadership and travel opportunities that will broaden your intellectual perspectives.
Featured Profile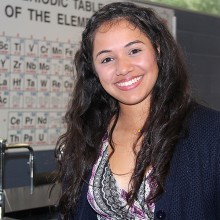 Honors Program Major
Graduation Date: May 2015
When Rossana Cubillan, a native of Venezuela, decided she wanted to study abroad in the United States, her dad gave her two options. She could live with her brother in Texas or her brother in South Carolina. She ended up spending time in both locations, but ultimately chose Greenwood and Piedmont Technical College.
Program Information
Through an array of courses and seminars, you'll participate in community service projects, explore intriguing topics, and participate in leadership and travel opportunities that broaden your intellectual perspectives.
As a PTC honors student, you'll receive a world-class education during the first two years of your work toward a bachelor's degree that will prepare you for excellence, no matter which academic path you choose to pursue during your junior and senior years at a four-year institution.
Academics
The Honors Program provides an innovative academic curriculum for outstanding students committed to distinction on their way to a bachelor's degree. Through an exploration of timely issues and timeless debates, the program offers coursework designed to foster learning through creativity and reflection. Learn More »
Enrichment
During each of your two years in the honors program, you'll have the opportunity to expand your horizons through travel experiences and service learning projects. 
Transfer Opportunities
After your time as an Honors Program student, you'll be exceptionally well prepared to transfer into the four-year institution of your choice. Some institutions may allow you to transfer your PTC honors credit directly into their honors program, for a full, four-year honors experience. PTC offers a variety of Bridge and Transfer options to help prepare a seamless transition to your destination school.
The Honors Program is designed for students in the AA/AS programs.
The Benefits
Smaller class sizes and a community of scholars
Rigorous academics to prepare you to excel at any four year college
International travel opportunities
Service learning projects in the United States
Networking opportunities with community and business leaders
Enhanced extracurricular activities and mentoring opportunities with faculty
Personal, priority advisement
Substantial cost savings on the first two years of your college degree
How to Apply
There are four steps to the application process.
1) All Honors Program materials must be submitted using the web based application system. Apply Here »
If you are not a current Piedmont Technical College student or if you are a student in dual enrollment, complete and submit a Piedmont Technical College application for admission. Then you will be eligible to complete the online Honors Program application. Current Piedmont Technical College students only need to complete the Honors Program application.
2) You are required to write a short 250 word essay about one of two topics:
      A) What are the essential characteristics of an effective leader?
      B) If you could have a conversation with a famous person (living or dead), whom would you choose, and why?
3) One  recommendation from someone who is familiar with you and your work is required. For high school students, this can be a guidance counselor or teacher. For current PTC students, the recommendation needs to come from an instructor. To start the recommendation process, you must type in the recommender's email address in the allotted field on the application. At that point, a link to the recommendation will be sent to the recommender and he/she must fill it out and send it back electronically in order for your application to be complete. Please follow up to make sure the recommender has sent in the recommendation.
4) Once your application has been reviewed, students will be contacted to interview with the Honors Program Advisory Committee. Only serious candidates with completed applications will be contacted. After the interview, students will be notified of their acceptance status.
Eligibility
High School Students:
A GPA of at least 3.5 or a combined score of 1150 or better on the critical reading and math sections of the SAT, or a 25 or above on the ACT
Current Piedmont Technical College Students:
A GPA of at least 3.5 in transferable courses and at least 12 hours beyond developmental courses. Developmental courses include classes like ENG 011/031; ENG 012/032; ENG 100; RDG 011/031; RDG 012/032; RDG 100; MAT 011/031; MAT 012/032; MAT 152, MAT 101; RWR 012/032; RWR 100. 
Important Dates
Honors Application Open: September 1
Priority Application Deadline: April 30
Final Application Deadline: June 30
Acceptance notifications will be sent on a rolling basis beginning in May, with priority status given to early applicants.
Contact Us
For more information about the Honors Program, contact:
Dr. Brad Griggs
Dean, Arts & Sciences
Phone: (864) 941-8630
Email: griggs.b@ptc.edu
Follow us on Facebook.