Electronic Engineering Technology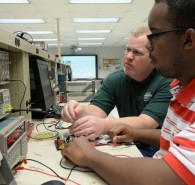 With electronic and computer circuits now being used in everything from the most complex industrial equipment to the simplest of household appliances, the engineering technician in this field is prepared to work in an extremely wide variety of businesses and industries.
Featured Profile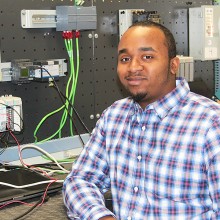 Engineering Technology Major

The North Charleston native graduated from Southern Wesleyan University with a degree in criminal justice, but he knew it wasn't a career he wanted to pursue. After graduation, he relocated to Greenwood and took a position with Eaton Electrical. Over time, he knew he needed a change. "I reached that point where I liked my job, but I didn't want to be in that position for the rest of my life," he said.
Skilled in the operation, troubleshooting, calibration and repair of electronic instruments and systems found in process control, communications, computers, manufacturing, programmable logic controllers and microprocessors, the graduate is not limited to one specific area of employment. Practical, hands-on experience on sophisticated electronic equipment provides the student with the skills necessary to assist in the basic design, construction, analysis, modification, inspection and calibration of electronic circuits and systems.
Career Information
Career Tracks
salary average: $62,190 per year
91% placement rate for 2014 - 2016 graduates
Entry Level Positions
electronics technician
maintenance mechanic
electrical maintenance technician
engineering assistant
computer test technician
Locations: