Medical Assisting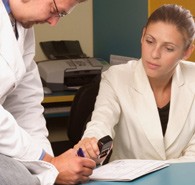 Medical Assistants greet patients, prepare them for exams and perform routine clinical tasks like taking patient history, collecting vital signs, and more. They also often help with the administrative tasks of running an office: Answering phones, making appointments, computer and paperwork.
Career Information
Career Tracks
Entry Level Salary Average: $29,370
78% placement rate for 2014-2016 graduates
Employers
Recent graduates have found work with
Carolina Health Centers
Greenwood Genetic Center
Martha Franks Baptist Retirement Home
Many more...
Program Information
As the demand for healthcare services continues to grow, physicians and other healthcare providers are in need of skilled and compassionate medical assistants to keep their practices running smoothly. 
Medical Assistants are an important part of the daily operations in doctor's offices and other healthcare facilities. The medical assistant must have good communication skills, like people, want work variety, be accurate in work performance and be able to be trusted with confidential information. Medical assisting is an exciting and rapidly expanding health care profession. 
As a graduate of PTC's Medical Assisting diploma program, you'll be prepared to start a successful career providing direct patient care that has a positive and memorable impact on patients and their well-being.
Locations:
Video