Phlebotomy Technician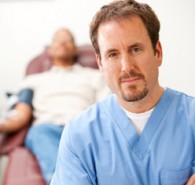 Phlebotomy technicians are health care workers who have been trained to collect blood for laboratory analysis. The main responsibility of a phlebotomy technician is to collect blood for laboratory analysis. This important job assists the physician in diagnosing and making decisions about care for a patient.
Career Information
Career Tracks:
Salary average: $32,710 per year according to the US Department of Labor.
82% placement rate for the 2014 - 2016 graduates.
Typical Duties:
Venipunctures
Capillary punctures
Computer data entry
Program Information
In Piedmont Technical College's 20-credit hour certificate, you'll learn all the necessary skills for a career as a phlebotomist.
A phlebotomy technician must possess manual skills to obtain blood specimens.  Communication skills are also necessary for working with patients and all other health care team members.  A phlebotomist must be able to work with accuracy under pressure and be a team player.
Locations: