Practical Nursing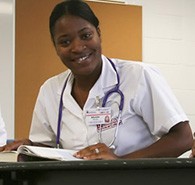 The Practical Nursing (PN) program is designed to afford the student the opportunity to acquire knowledge, skills and attitudes needed to provide supervised health care to individuals and families across the lifespan in a variety of settings.
A supply of well-qualified nursing staff is essential for quality health care. This ongoing need presents graduates of Piedmont Tech's Nursing programs with a wealth of employment opportunities, and with excellent earning potential.
Piedmont Tech's Practical Nursing program and its Associate Degree Nursing (ADN) program are approved by the SC Board of Nursing. The ADN program is accredited by the National League for Nursing Accrediting Commission (NLNAC). The nursing programs at Piedmont Technical College prepare graduates to take the licensing examination, NCLEX, to become a registered nurse or a licensed practical nurse.
Career Information
The practical nurse provides bedside care in a variety of medical facilities. Working under the direction of a registered nurse or physician, the practical nurse is prepared to work with patients with commonly occurring health problems which have predictable outcomes.
Student Resources
Useful Links
Clubs & Organizations
Locations:
More Photos
Video