Massage Therapy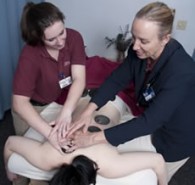 Massage Therapy is one of the fastest growing professions in the health care field. And there is an ever increasing acceptance of massage as a holistic approach to health care and health maintenance.
Featured Profile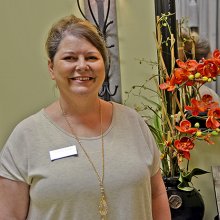 Massage Therapy Major
Graduation Date: August 2016
Melissa Raugh knows that just because you put your dreams on hold doesn't mean you can't achieve them.
Career Information
Career Tracks:
Possible to earn $15 - $60/hour
Average wage for PTC grads is $26.62/hour
91% placement rate for 2014-2016 graduates
Full or part-time available
Entry Level Positions:
Healthcare settings, including medical and rehabilitation centers
Chiropractic offices
Fitness Centers
More...
Program Information
An interest in health and wellness, a solid understanding of how the human body works and a desire to help people are the perfect combination for a career in massage therapy.
After completing a certificate in Massage Therapy at PTC, you'll be prepared to become a certified massage therapist, and you'll have the practical experience to succeed.
Hands-On Training
Students in the Massage Therapy Program receive individualized attention in classes with 12-24 students.
Students complete 40 credit hours of instruction, to include lab work and 50 additional hours of real-world experience on their own.
The program provides a community service massage therapy clinic beginning the second semester in January each year, running to a third semester in August.  The operational clinic is run completely by students under the instructor's supervision, providing everything from Swedish, hot stones, prenatal , and deep tissue,  to neuromuscular therapy, lymphatic drainage,  and reflexology.
Career Information
Massage Therapy addresses dysfunction injury and chronic pain associated with soft tissue.  At the same time a therapist can provide luxurious relaxing sessions and competent stress management. A balance of academic knowledge, technical expertise, manual dexterity and ethical concepts prepare massage therapists to practice as health care professionals who are capable of addressing specific health issues and working in conjunction with other health care professionals.
As a career, massage therapy offers great flexibility.  Therapists can work full or part time, and the career offers portability—the skills learned at PTC are marketable anywhere.
Locations:
More Photos
Video