Occupational Therapy Assistant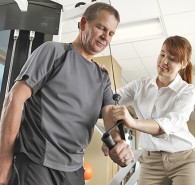 Piedmont Technical College's Occupational Therapy Assistant program provides a great option for students in South Carolina, seeking a rewarding career in the field of Occupational Therapy.
Career Information
Career Tracks:
Median Salary: $56,950
Salary Range: $36,420-$76,790
Salary Ranges are according to the 2014 BLS data.
Occupational Therapy Assistants rank #1 in the Best Health Care Support Jobs by the U.S News and World Report Rankings on January 2016.
Entry Level Positions:
Occupational Therapy Assistant
Program Information
Occupational therapy assistant (OTA) curriculum will prepare students to work with patients and clients across the life span to achieve their overall functional outcome through therapeutic use of self, activities of daily living (occupations) and clinical reasoning under the supervision of an occupational therapist to perform screenings, assessments, intervention planning/treatment, documentation of the progress on the patient/clients OT services. The occupational therapy assistant student will obtain both didactic and clinical knowledge/experience to effectively perform OT intervention in various OT practice areas. OT practices may include, but are not limited to the following: children with disabilities; teens with depression; adults suffering from a brain trauma, surgery, disease, and amputation; and older adults suffering from Parkinson, Dementia or home/workspace adaptations. OTAs are vital in assisting individuals to develop, recover and improve the skills needed for daily living and working under the supervision of the occupational therapist.
Piedmont Technical College's OTA program is offered on the state-of-the-art campus in Newberry.
The OTA student's employment opportunities include, but are not limited to, working in hospitals, rehabilitation facilities, long-term/extended-care facilities, sheltered workshops, schools, home health programs and community programs.
Occupational Therapy Assistant Pass Rate
Career Outlook
The Bureau of Labor Statistics projects that the profession will grow a whopping 43 percent by 2024, which is much faster than the average for all occupations. Between 2014 and 2024, the BLS estimates that 14,100 new jobs will open up in the field. Demand for OTAs is expected to rise significantly in the coming decade in response to the health needs of the aging baby boomer population. 
Learn More: Visit Piedmont Technical College's Career Coach site for more in-depth career information related to this program. For national career information, visit the U.S. Bureau of Labor Statistics.
Admission Process
Piedmont Technical College is an "open door" institution dedicated to serving the educational needs of all applicants. The College mission is to transform lives and to strengthen communities. The goal of the Admissions Office is to meet students where they are in life and provide them with the opportunity to achieve their educational goals. The students of the Occupational Therapy Assistant program are offered the same rights and privileges as other students enrolled at the college. Piedmont Technical College does not discriminate on the basis of race, color, religion, sex, national origin, age, disability, sexual orientation, or veteran status in its admissions policies, programs, activities or employment practices. These statements may be found here.
The OTA students have the same access to financial aid, academic appeals, financial aid appeals, and student grievances as well as the same rights to the privacy of their records as defined by the Family Educational Rights and Privacy Act of 1974 (FERPA) and as outlined here. 
All students, including the OTA program students, must follow the admission policy of the college, published in the Academic Catalog. All applicants for admission to Associate Degree, Diploma, and certain Certificate programs must be a U.S. Citizen (or apply as a non-immigrant), possess a High School Diploma or General Education Development (GED), and complete the college's ASSET or COMPASS placement test to assess skills in reading, English, mathematics, and technological readiness. 
Physical Requirements
In addition to meeting the general admission requirements for the College, students enrolling in Health Science programs, which include the OTA field of study, have additional physical and mental standard requirements to be able to participate and function within the programs and clinical environment. The applicants should be able to demonstrate these abilities, which are needed to assess health status and perform effective patient care. Examples of these standards are found here and require specific communication and interpersonal skills; physical mobility and stamina, gross and fine motor skills; visual, auditory, and tactile abilities; and emotional stability and psychological health. The Student Health and Immunization Form required for admission to the OTA program are provided within the Health Science Information Session. 
Accreditation
The Occupational Therapy Assistant program is accredited by the Accreditation Council for Occupational Therapy Education (ACOTE) of the American Occupational Therapy Association (AOTA), located at 4720 Montgomery Lane, Suite 200, Bethesda, MD 20814-3449. ACOTE's telephone number c/o AOTA is (301) 652-AOTA (2682) and its Web address is www.acoteonline.org. Graduates are eligible to sit for the national certification examination for the occupational therapy assistant administered by the National Board for Certification in Occupational Therapy (NBCOT). 
Click to learn more about ACOTE Standards
NBCOT Certification
Graduates of the program will be eligible to sit for the NBCOT examination to become a practicing occupational therapy assistant. The examination is administered by the National Board for Certification in Occupational Therapy (NBCOT), located at 12 South Summit Avenue, Suite 100, Gaithersburg, MD 20877. NBCOT's phone number is (301) 990-7979.
NBCOT eligibility: A felony conviction may affect a graduate's ability to sit for the NBCOT certification examination or attain state licensure. For entering students with a concern in this area, NBCOT can be contacted directly for information related to the Early Determination and Character Review process for approval to take the NBCOT certification examination. You can see the NBCOT Pass Rate at https://secure.nbcot.org/data/schoolstats.aspx.
Locations: