Industrial Electronics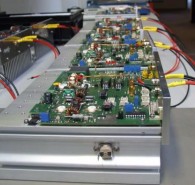 Industrial Electronics Technology is a broad program designed to prepare graduates for employment in manufacturing, merchandising, testing, installing, monitoring, modifying and repairing electrical and electronic equipment systems, offering both classroom and hands-on experiences.
Career Information
Career Tracks:
Entry Level Salary Average: $39,270
Salary Range for Recent Grads: $33,000-$57,000
92% placement rate for 2014-2016 graduates
Entry Level Positions:
Electronics Technician
Maintenance Technician
Quality Assurance
More...
Program Information
Industrial electronics maintenance technicians install, troubleshoot, repair and maintain electronic systems and equipment used in industrial manufacturing. They maintain the electronic systems and programmable logic controllers (PLCs), checking for loose connections and defective components on electronic control systems and mechanical equipment.
To fix a problem, technicians may conduct and evaluate computer diagnostic tests or attempt to reproduce the problem on a PLC test system.
Locations: