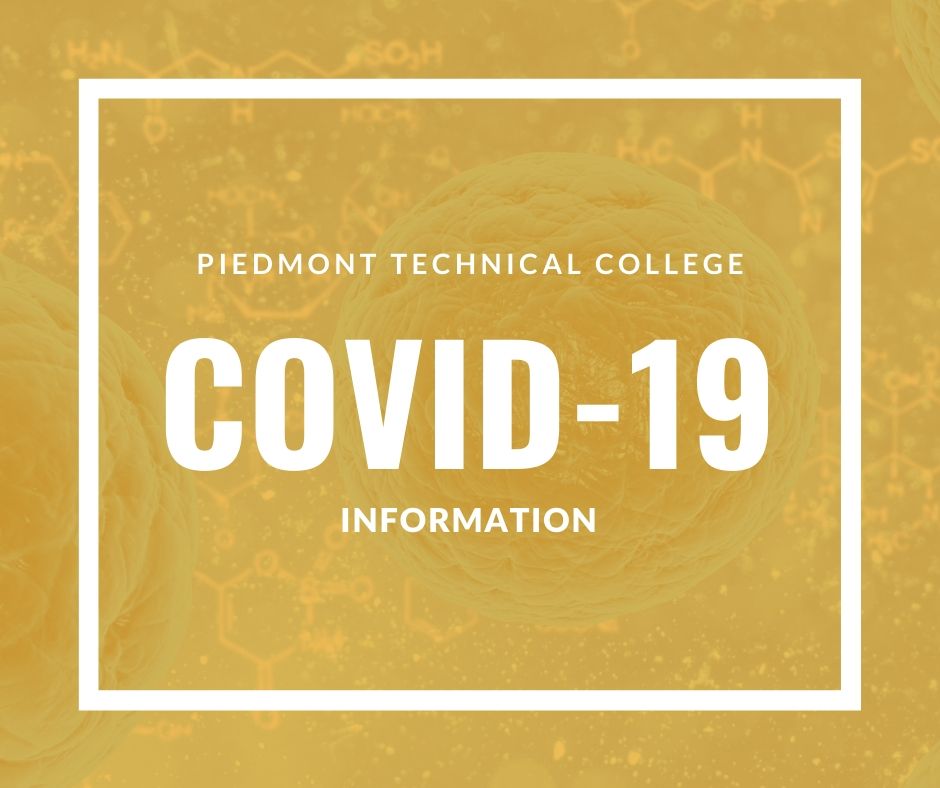 PTC's current operating status is as follows:
PTC locations are open to the public.
Please visit our COVID-19 FAQ to get answers to the common questions we are receiving.
Self Screening Questions:
If you can answer "yes" to any of the following questions, do not report to campus. Students should contact their faculty. PTC employees should notify their supervisor. 
Are you or someone in your household currently being tested for COVID-19 and awaiting results?
Have you recently been identified as a close contact to a COVID-19 case?
Do you have a new or worsening cough?
Are you experiencing loss of taste or smell?
Are you having difficulty breathing or shortness of breath?
Do you or have you had a fever of 100.4 or higher within the last 48 hours?

Resources and FAQs
» Get contact info and answers to common questions here.

Sources for up-to-date information:

Official PTC Communications 
Official Piedmont Technical College communications related to COVID-19 and college operations will be shared on this web page. In the event of a college closing, schedule change or other necessary emergency measures, faculty, staff and students will be notified via the college alert system. Students should ensure that their information is up to date in the college's database to ensure timely communications. For more information about the PTC Alert System, read the FAQ here.

Keeping Yourself Healthy
Prepare now by helping to prevent the spread of COVID-19. Individuals can lower the risk of transmission by consistently practicing simple, everyday non-pharmaceutical interventions (NPIs):
Staying home when you are sick or avoiding close contact with people who are sick
Covering coughs and sneezes
Washing hands with soap and water or using hand sanitizer when soap and water is not available
Ensure regular cleaning of frequently touched surfaces and objects. Bleach and water can be used to sanitize. 1:10 ratio ¼ cup bleach to 2 ¼ cups tap water or 1 cup bleach to 9 cups water.
Avoid touching your face and lips whenever possible. (Smoking, vaping  and chewing tobacco do not help either!)
Being prepared and informed

Symptoms
Symptoms of COVID-19 include fever, cough, and shortness of breath.
If you are an employee experiencing symptoms that you believe to be associated with COVID-19, please stay at home, contact your healthcare provider, and notify your supervisor to discuss a plan for your absence.
If you are a student experiencing these symptoms, please stay at home, contact your healthcare provider, and notify your instructors for guidance regarding illness-related absences.
Updated: 2-25-22