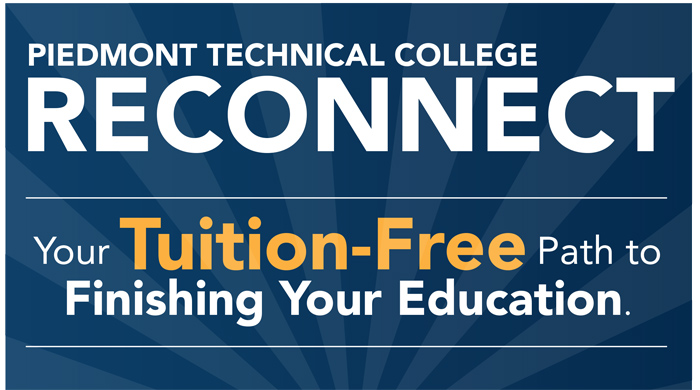 Are you ready to finish your education? We've got you covered. Through Piedmont Technical College's Reconnect program, you can gain new skills, advance in the workplace, and complete a degree or credential. The good news is that it's never too late to finish what you started.
We know it's been a while since you started – and stopped – your program at PTC, but your credits are still here, just waiting for you, and so are we. PTC Reconnect is a program focused on assisting former Piedmont Technical College students who did not complete their program, return to PTC and complete a credential to advance their career, earn higher wages, or start in a new industry.
Students will receive a tuition grant (after federal and state aid has been awarded) to support their re-entry into the College as long as they meet program requirements. They will also receive personalized service and support throughout the re-enrollment process.
What you get:
The courses you need to finish your degree or credential, tuition-free.
One-on-one advising to help map your path to graduation.
A guaranteed technical education designed for today's jobs.
How to get started:
Step 1: Follow the simple enrollment process at www.ptc.edu/returning
Step 2: Complete the Free Application for Federal Student Aid (FAFSA) at www.fafsa.gov.
Step 3: Contact us at (864) 941-8363 to schedule an appointment with an advisor. Be sure to mention the voucher you received in the mail when you schedule your appointment.
What are the requirements?
If you received a notification from us, you're already pre-qualified for the program. The criteria for eligibility are listed below. 
Must be resident of a county within the PTC service area.
Must be a former/inactive student who has not attended PTC in past three semesters.
Must complete the FAFSA process.
Must be eligible for State of SC Lottery Tuition Assistance Program.
Must not have previously earned an associate degree or higher.
Must not be in default on a student loan program.
Must not be ineligible to return to PTC due to disciplinary reasons.
Must not have an outstanding debt with the college.
Must enroll at least part time with a minimum of 6 credit hours per semester and stay continuously enrolled in at least 6 credit hours until completion of identified credential.
Must complete program within 12 months of start.
Must maintain a cumulative GPA of 2.0 or higher.
Must begin classes in Fall 2020 term.
Questions?
Contact Tamatha Sells at 864-941-8363 or sells.t@ptc.edu