Financial Aid 101
Need help paying for college? Learn about how to navigate the financial aid process from Missy Perry, PTC's Financial Aid director in this free webinar series.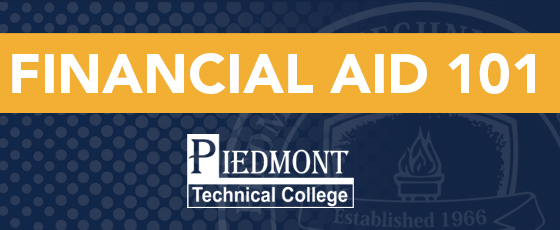 The Piedmont Technical College Office of Financial Aid will be offering a series of webinars this spring and summer designed to help you navigate the financial aid process. 
What & When
April 27 at 6pm: Completing your FAFSA
An overview of the steps involved in completing the Free Application for Federal Student Aid (FAFSA)
May 4 at 6pm: Checking at Completing Financial Aid Requirements
An overview of how to check on and complete your financial aid requirements using Pathway, the PTC Portal.
July 7 at 6pm: Accepting Financial Aid and Determining Your Balance
How to review and accept your aid, and of how to determine your tuition balance at PTC in Pathway, the PTC Portal.
Where
These are online presentations, and are available anywhere there's an internet connection.