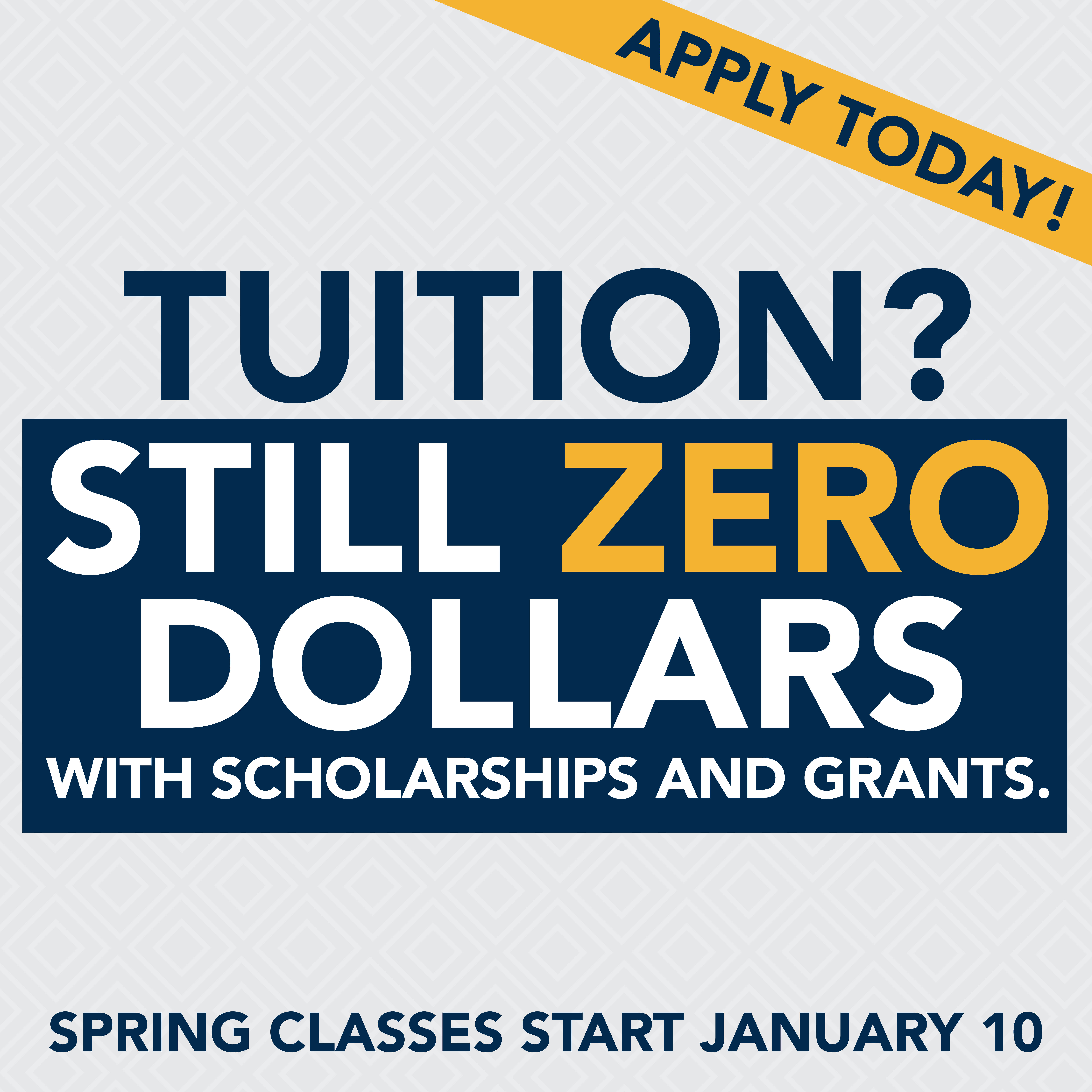 Pay ZERO Dollars for Tuition with Scholarships and Grants!
At Piedmont Technical College, we realize that there are a lot of great jobs available in our community. Many of these opportunities require a college education or advanced training. We don't want anything standing in the way of  your pursuit of a new or better career path. For that reason, we are fully removing the tuition cost barrier.* 
*Does not cover tuition costs for transient, non-degree seeking students, and some non-credit programs. 
Who is Eligible?
PTC's no cost tuition option is available to South Carolina residents with a desire to begin or continue their education, including:
Adults with some college
Adults with no college
Recent high school graduates
All college-eligible students who enroll at PTC are eligible for PTC's no cost tuition option for the spring 2024 term.
How do I Qualify?
Complete a 2023-2024 FAFSA (Free Application for Federal Student Aid).
Complete an application for the spring semester at www.ptc.edu/apply
Provide the appropriate documents needed to complete your financial aid steps.
The program funds the remaining tuition and standard fees after all federal, state and local scholarships and grants have been applied.
Students must maintain a 2.0 Cumulative GPA after 24 attempted credit hours by the end of the prior academic year.
This program covers tuition and standard fees. It does not cover books or required supplies.

Transient and non-degree-seeking students are not included.

Select non-credit programs are also included in the No Cost initiative.

Standard fees include:

Registration - $25
Facility Fee - $50
Security - $5
Take the Next Step
New and Returning Students

New students to the college and students who have not been enrolled for one year or more should start with the Admissions Office or nearest County Campus.

Current Students

Current students are assigned to Academic Advisors by major. We strongly recommend that students contact their advisor either by phone or email to schedule an appointment. Due to class schedules, clinical schedules, and labs, many faculty members are only available by appointment. Advisor information is located in Pathway on the Student tab.

For more information, contact your program area:

University Transfer - 864-941-8447
Healthcare - 864-941-8651
Business, Public Service, Information Tech. & Commercial Arts - 864-941-8729
Engineering and Industrial - 864-941-8486
Serving Our Community
Through continuous investment in all of the counties we serve, Piedmont Tech has remained committed to expanding capacity for a host of education opportunities.
Additional state, federal, county and community funding is now making it possible for the college to temporarily remove one of the main barriers to receiving a college degree—tuition cost. This step will ensure our citizens have access to good jobs and employers have access to a qualified labor pool for years to come.
Together, we will continue building a strong workforce that can meet the current and future needs of business and industry in our region.