Your Fall Semester Just Got Even More Affordable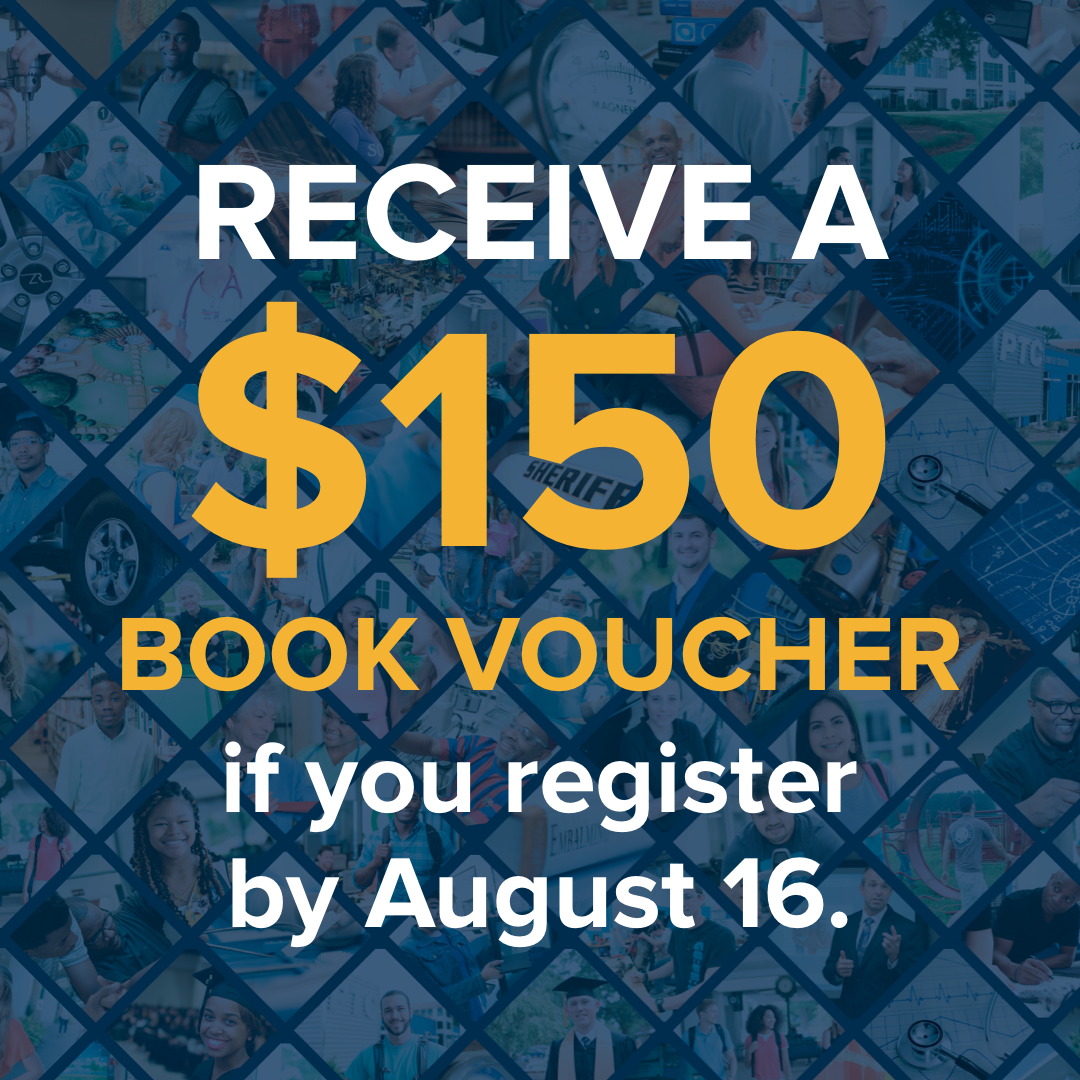 It is no secret that Piedmont Technical College offers the best value for higher education in the region. Expanding on our mission to provide a high quality, affordable college option in our community, we've added a new offer for students attending this fall.  
New and Current students who register for fall classes by August 16, will receive a $150 book voucher. The voucher can be used to purchase books, tools and other supplies needed to complete their coursework. 
Expect More
Whether you are a returning student or you are just starting your educational journey, this new offer is one piece of a host of benefits you can expect when you choose PTC. In fact, when you select PTC, here are a few more things you can look forward to:
You'll get your training and education at a lower cost. At a little over $4,000 per year, we offer the lowest tuition of any college in our seven county service area. Plus, 7 out of 10 students at PTC attend tuition free, so you're likely eligible for a lot of financial aid.
Finding a job after graduation is simple. Our career track programs are designed in collaboration with local businesses to ensure that our students receive the training for jobs that are available today. These partnerships translate to a 91% placement rate for recent graduates.
Credits transfer easily to four-year colleges throughout the state. Plus, you can save over $10,000 on your first two years of a bachelor's degree before transferring to schools like Clemson, USC or Lander.
Who is Eligible?
The above benefits at PTC are available to anyone with a desire to begin or continue their education, including:
Adults with some college
Adults with no college
Recent high school graduates
Career changers
The following criteria also applies:
Dual Enrollment, Transient and Career Development students are not eligible for this promotion.
The non-refundable voucher can only be used for books and educational supplies in the PTC Bookstore.
The voucher must be used by September 23, 2021.
The SC WINS book allowance will apply before the promotional voucher takes effect.
Have Questions?
We know you may have questions. We have counselors and advisors standing by to assist you. 
New Students

To get started,  Learn more about our five simple enrollment steps at www.ptc.edu/admissions. Or, call our Admissions Office at (855) 682-7094.

Current Students

If you are a current student, start by contacting your advisor either by phone or email to schedule an appointment. Advisor information is located in Pathway on the Student tab.