Dual Enrollment Student Gets a Head Start on a Career
Braxton Michels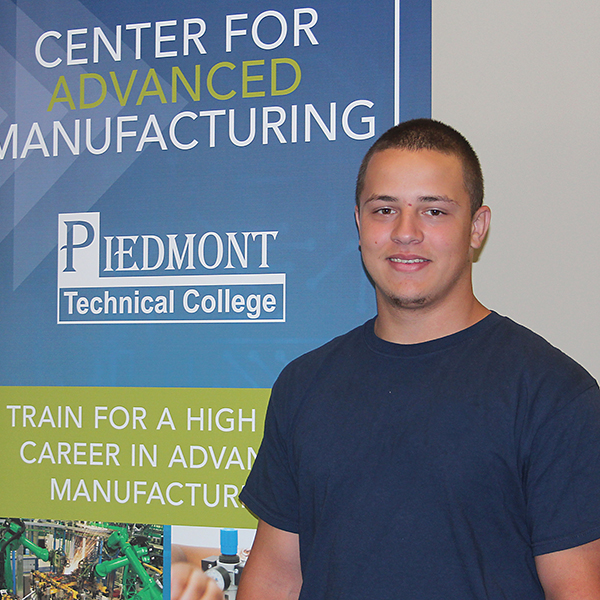 Machine Tool Technology Major

The loss of a high school course turned into a great opportunity for one Laurens District High School graduate.
As a freshman, Braxton Michels was interested in the machine tool class offered at LDHS. However, when the teacher left to pursue other opportunities, the course was discontinued. But, Michels knew he wanted to enroll in some form of industrial or manufacturing curriculum.
"You need at least a two-year degree for almost any job now," he said. "I knew anything that I took while in high school would help me in the future."
Michels enrolled in the new mechatronics dual enrollment class at the Center for Advanced Manufacturing (CAM) in Laurens. Upon graduation from high school, he was hired by a large local manufacturing company. He is currently enrolled in the QuickSkills program at the CAM to earn a CNC Operator certificate. In the fall, Michels will continue his education at Piedmont Technical College in the machine tool technology program.
Taking classes at the CAM has been a pleasure for Michels. The smaller size of the facility and the helpfulness of the staff have helped make him more successful.
"Coming here to the CAM has provided a great environment for me," Michels said. "Everyone here has gone out of their way to help me."
Michels said he would recommend anyone at the high school level to explore the dual enrollment program as the first step to their career.
"This has been a great opportunity," Michels said. "I was lucky enough to be able to get those classes under my belt before I went into the workforce."
For more information or to enroll in the mechatronics technology dual enrollment courses available at the CAM, students should contact their guidance counselor. For more information on the mechatronics technology associate degree, contact Kevin Moore at moore.k@ptc.edu.