Student Gets to Work While Finishing His Degree
Brendan Golding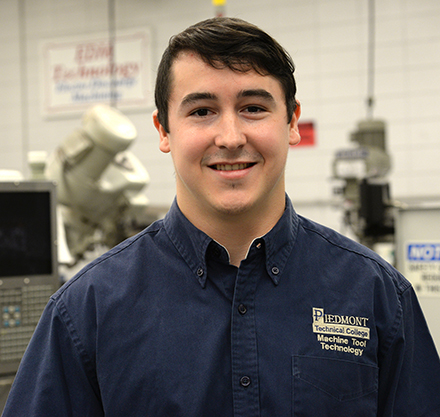 Machine Tool Technology Major

Like many Piedmont Technical College students, Brendan Golding did not go to college directly after high school.
"I waited a little bit of time before I figured out exactly what I wanted to do," he said. "I didn't want to spend the money and not like it."
When Golding did decide to pursue his degree, he chose something that connected back to interests he's had since childhood—machine tool technology.
"My dad is a very mechanical person and I've always been around this field," said Golding.
Golding was also inspired by a friend who was applying his machining skills to the field of racing. "I love cars and I have a friend who is already running his own business making parts for cars," he said. "I thought that was the coolest thing ever. So, that was a big thing that drew me into machining."
Now, not only has Golding exceled in the program, he was able to land a job as a CNC machine operator after just one semester in the program. So, he is already applying his training directly to a career while continuing his education.
In fact, Golding is logging 42-48 hours per week at his job at Piedmont CMG in Ware Shoals. But he is still able to focus on the program at PTC due to the flexible nature of the course work.
"I get tired because I don't get off until the middle of the night," said Golding. "So, my teachers will work with me, especially since I'm working in the field, so I can complete my projects.
While his job is working with the CNC machines, Golding says the instruction in manual machine tooling has been very beneficial.
"The field is going more to the CNC side and the manual is kind of dying out, but the instructors have always made a point that it's important to focus on the manual side as well," he said. "It gives you a better understanding of what's going on with the CNC machine."