Respiratory Grad Finds a Career, Not Just a Job
Eddie Brown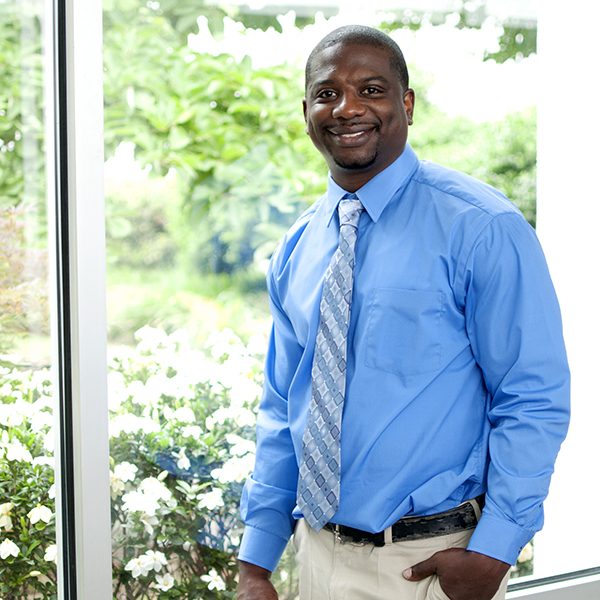 Respiratory Care Major
Graduation Date: May 2007
Currently: Respiratory Therapist, Greenville

"I opened the catalog, not sure what I was looking for, and it opened to respiratory care," Brown said. "I wasn't sure what respiratory was, but I felt that it had found me."
Brown excelled at the program, serving as a Presidential Ambassador, president of the Respiratory Care Club and earning a place on the Dean's List multiple times. He graduated in 2007 and became a registered respiratory therapist at Newberry Hospital.
"Going to Newberry first taught me so much," he said. "I was scared of the unknown, like all students are, but Jerry (Alewine) and Ann (Allen) taught me well. Any student that comes out of the respiratory program will be prepared."
During my career, I've been on many codes and many life-saving teams. I really love my patients. I love respiratory, and I love what I do.
After five years at Newberry, Brown moved on the faster pace of Greenville Memorial Hospital. He works in the cardiovascular intensive care unit (CVICU), and many of the doctors confer with him on cases, trusting his judgment. On the side, though, Brown has returned to his roots, working with the Piedmont Tech respiratory program as a clinical instructor, bringing his real-world knowledge to the classroom. Brown provides help for the certification exams the students will take, but his main focus is teaching them to look at respiratory care as a career, not just a job.
"I teach the students how to conduct themselves in a hospital setting," he said. "I take what they are learning in class and show them how it works in the real world."
Eddie Brown feels that respiratory care is not just his job, it's a career. And he loves every minute of it.
"When you come to work, you shouldn't look at it as work," he said. "Look at it as a career."
Brown came to Piedmont Tech following a career in juvenile corrections. When his position was eliminated due to budget cuts in 2003, he wanted to find a meaningful career to help support his daughter. He met with a counselor, not knowing what he wanted to do, but looking for a program that was a fit.
Brown said he is not through with education. He plans to pursue is bachelor's degree in respiratory, and then he says the sky is the limit. For him, that means he is weighing his options to possibly enter medical school and become a doctor.
"I'm 38 now and I'm looking at how much time I will have to invest in school. I'll be 51 when I finish, but I'll be 51 regardless," he said. "I have the confidence in myself and my abilities to go that one step further."
Overall, Brown says Respiratory Care can be both personally and professionally rewarding.
"Once I graduated with my associate degree, I was actually already working at Newberry Hospital," he said.
"Now I work in the Cardiovascular ICU in Greenville. During my career, I've been on many codes and many life-saving teams. I really love my patients. I love respiratory, and I love what I do."