Preparing for a Bright Future
Emily Walden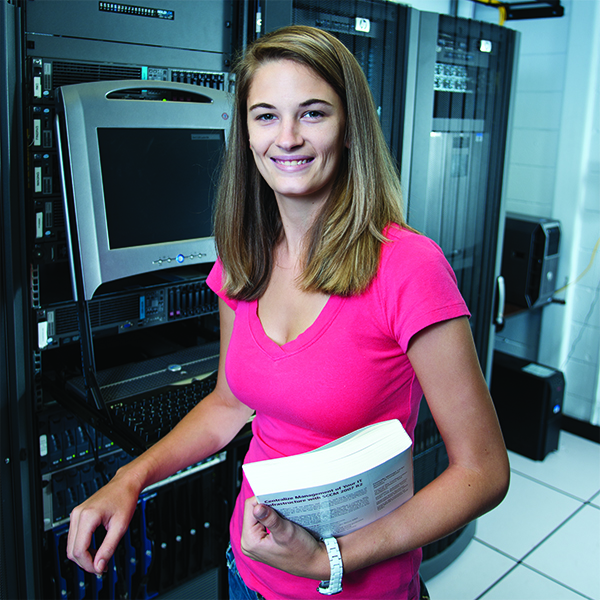 Computer Technology Major
Graduation Date: 2012

When Emily Walden came to Piedmont Technical College, she was unsure at first what she wanted to do, but she had taken several computer classes while in high school and the course offerings in the Computer Technology [1] program at PTC clicked with her.
"I thought it would be something I could do, so I enrolled," she said. "And I fell in love with it."
Walden completed the Computer Technology program with a concentration in programming in August, earning her associate degree, and immediately returned to enroll in the Internet concentration program.
She completed her second associate degree in May 2012 and plans to pursue her bachelor's degree.
"I've enjoyed every class I've taken," she said. "When I started, I never thought I would be doing what I can do now as quickly as I did."
As well as excelling in the program, Walden has also earned recognition. She is in one of the first groups of students to receive a scholarship through the Hi-Tech Scholars Program. The scholarship awarded will averages $700 per semester for tuition, allowing students to use other forms of financial aid for books and fees, and includes a "Loan to Own" laptop, meaning students may keep them after graduating from their programs.
If you want to attend a four-year university, coming to Piedmont Tech first is a smart choice.
"When I registered for my classes, I saw information on this scholarship," she said. "When I found out I got it, I was very surprised and excited."
The scholarship allowed Walden to apply some of her other financial aid awards to cover her books, greatly reducing her financial burden of attending. Plus, she was very excited about the computer.
"It's going to have every type of software that we could possibly need," she said. "I really needed a new computer because mine is about to go, so this was a fantastic thing."
Walden says coming to Piedmont Tech has been the perfect choice for her and she is attempting to convince her brother to do the same.
"If you want to attend a four-year university, coming to Piedmont Tech first is a smart choice. You're going to be better prepared for the change from high school, both academically and financially," she said.