Machine Tool Student on the Right Track
Jared Roach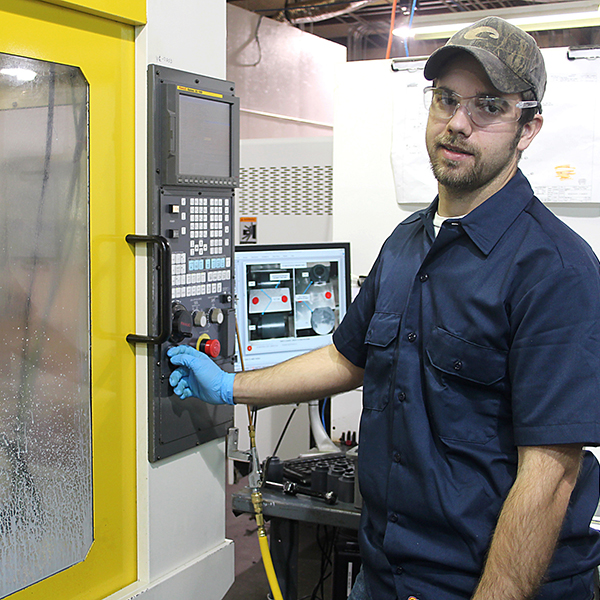 Machine Tool Technology Major
Currently: Piedmont Plastics

Jared Roach has found a way to put his mechanical abilities to good use.
The Ware Shoals native graduated from Greenwood Christian School in 2010 and enrolled in the Electronic Engineering Technology program at Piedmont Technical College. But a walk through the machine tool shop changed his life.
Roach had enrolled in the Electrical Engineering Technology program because he had worked with electronics his whole life and had been exposed to the field from his father. It was never something that called to him, though, he said.
"I walked through the machine shop one day and thought it would be interesting to do," Roach said. "I thought this would be more challenging and hands-on."
Roach changed his major and hasn't looked back. He is on track to graduate from the Machine Tool program in May 2013. The hands-on environment has provided Roach with the training he was searching for when he came to PTC.
"Everything I do in the shop has been so beneficial," he said. "Bob (Koster) and Johnny (Merck) have been great instructors."
As long as there are businesses that need equipment, there will be a need for machinists to make the parts.
The change of major has proven to be valuable for Roach. In October 2012, he was hired by Piedmont Plastics in Ware Shoals as a CNC operator.
"The company was looking for machinists and Bob recommended I apply," Roach said. "It's been a great thing because I've gotten more experience."
Upon graduation, Roach wants to continue his education with more classes, including more CNC classes and the new CMM classes offered at the PTC Center for Advanced Manufacturing in Laurens.
"The more education you have, the more options you have in your career," he said. "And you never stop learning in this field."
For those looking for a long-term career, Roach highly recommends students explore the Machine Tool program at Piedmont Technical College.
"As long as there are businesses that need equipment, there will be a need for machinists to make the parts," said Roach. "The training you get from the instructors at Piedmont Tech will prepare you with the basics for what you will see in the field."