PTC Student Finds Love of Engineering Technology
Jeremy Houchins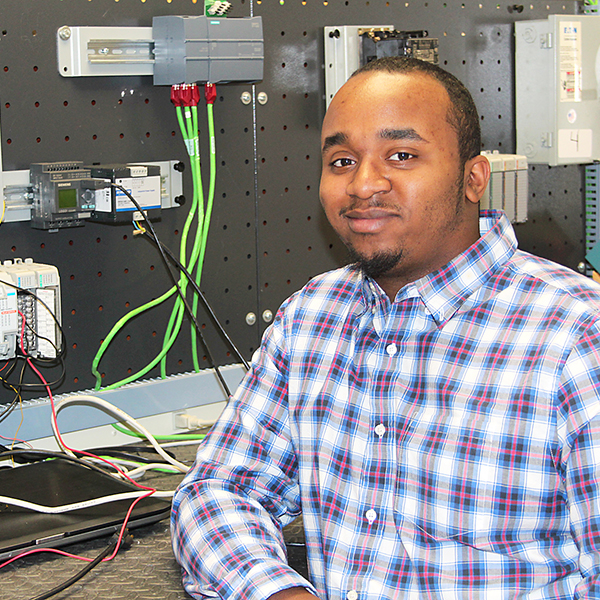 Engineering Technology Major

Jeremy Houchins grew up taking his toys apart to see how they worked. He never thought he could parlay that into a career.
"When I graduated from high school, I was pretty lost," said Houchins. "I knew I had to go to college, but I didn't know what I wanted to do."
The North Charleston native graduated from Southern Wesleyan University with a degree in criminal justice, but he knew it wasn't a career he wanted to pursue. After graduation, he relocated to Greenwood and took a position with Eaton Electrical. Over time, he knew he needed a change.
"I reached that point where I liked my job, but I didn't want to be in that position for the rest of my life," he said.
Houchins spoke with several engineers at Eaton and learned about engineering technology transfer options between Piedmont Technical College and four-year universities. He immediately enrolled in the program.
"I like that I can get a four-year degree and not have to transfer to another campus," Houchins said.
Houchins dove into life at Piedmont Tech. He became a Presidential Ambassador and earned a Hi-Tech Scholarship. The scholarship is something he says he is proud to have.
"It's a great program that promotes academic excellence and makes you want to be in good standing," he said.
Hi-Tech scholars earn money for tuition as well as a "Loan to Own" laptop or automotive scan tool the students may keep upon graduation from their program. Houchins says the financial aid was great, but the laptop was a blessing.
"My laptop had gone all four years at Southern Wesleyan and it just died on me," he said. "So it was helpful to my program to have a new laptop."
Houchins said his experiences at Piedmont Tech have been fantastic and distinct from a four-year university.
"There are a lot of personalities you can meet at Piedmont Tech," Houchins said. "It's different from a four-year university and it worked better for me."