Clinton Student Shows Welding Not Just for Boys
Katelyn Bradberry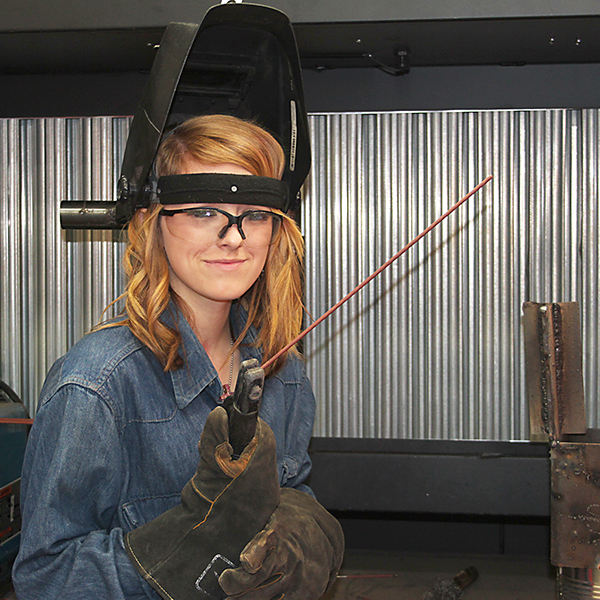 Welding Major

Katelyn Bradberry isn't your typical teenage girl. The junior plays lacrosse for Clinton High School. She is a member of the FFA. She is interested in a career in either agriculture or forensic science.
And she is enrolled in the dual enrollment welding program offered by Piedmont Technical College.
"I told some of the guys last year that I wanted to take the welding class and they said 'That's not for girls, girls don't take that,'" Bradberry said. "I said 'Watch me' and here I am."
Bradberry said she is enjoying the class and she looks at it as a door-opening experience.
"I think it's a good opportunity for us to do something that we might not get a chance to do anywhere else," she said.
Bradberry admits she was nervous at first about enrolling in the class, and what her friends would say about being in a "guy" class. But, her fellow students welcomed her and made her feel comfortable.
"Nobody has treated me any different and now other girls have said they want to take the class because of me," she said.
College is definitely in her future, Bradberry said, and she is excited for the chance to earn college credit in high school.
"My goal is to attend Piedmont Tech for two years before I transfer to Clemson," Bradberry said. "I really want to go into something with agriculture or forensic science, but these welding classes will give me another option."
She is on track to graduate from Clinton High School early, but Bradberry said the courses offered through the dual enrollment program will provide a starting point for her future.
"I have a chance to graduate early next year, but I'm not going to because Clinton High School offers dual enrollment classes," Bradberry said. "It's so much better financially and I feel more comfortable with these teachers who I have known for three or four years. It benefits me more than jumping into college right away."