PTC Funeral Service Grad Ventures Out on His Own
Kevin Jenkins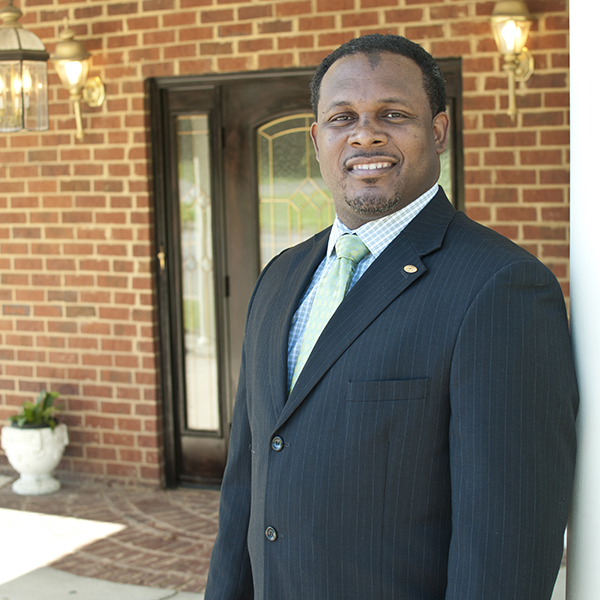 Funeral Service Major
Graduation Date: May 2008
Currently: Funeral Director, Saint Matthews

As a first-generation mortician, Kevin Jenkins gets a lot of questions about his chosen profession. He responds that this is something he feels he has to do.
"I look at this as a career and I have a passion for it," Jenkins said.
A licensed hair stylist in Saint Matthews, Jenkins worked with local funeral homes in helping with the preparations of the deceased. He began to get interested in the funeral home business, but he didn't want to compete with the established businesses in his home town. So he contacted Franklin Dash, owner of Dash's Funeral Home.
"I told him I wanted to pursue a career in funeral service and he told me if I would go to school, he would know I was serious about it," he said.
Jenkins said he knew of the Gupton-Jones College of Funeral Service in Decatur, Ga., but he could not see himself relocating his family or rearranging his schedule for the time it would require to travel each week to Atlanta. While searching the Internet, he came across the information on the funeral service program at Piedmont Technical College.
"After doing some research, I found out it was only two days a week and I knew I could make that sacrifice," Jenkins said. "With my undergraduate degree, I found out it would only take a year to complete the program."
Jenkins graduated from Piedmont Tech in May 2008 with his associate degree in funeral service education. Upon graduation, he returned to Dash, where he was hired as an apprentice. Five years later, Jenkins said he is ready to venture out on his own.
"I enjoy working with Mr. Dash and his family and I enjoy the funeral service profession," Jenkins said. "But there's nothing like home folks. I want to take a chance and try my home area."
Jenkins' new facility is on track to open at the beginning of the year. He said his work at Piedmont Tech and his apprenticeship with Dash have prepared him to take on this endeavor.
"The program prepared me tremendously," he said. "And when I did my apprenticeship, Mr. Dash would use the same terminology and technique that I had to learn in my classes."
While Jenkins said he faced many challenges while adjusting to his return to class, but he has experienced many more successes. His greatest achievements have come from helping people in their time of sorrow.
"The best thing is knowing you have served a family," Jenkins said. "It's a reward knowing you have put forth all your effort and knowing they are pleased with what you have done."