PTC Pottery Student Accepted at Gallery
Laura Bachinski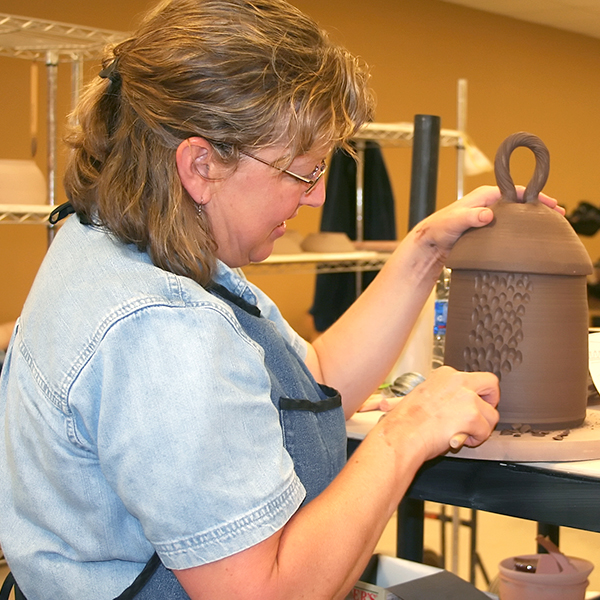 Graduation Date: December 2010
Currently: Owner, Bell House Pottery

It is the dream of every artist to be accepted into a gallery to display their work. Laura Bachinski has achieved that dream.
The Ninety Six resident is enrolled in the professional clay program at the Piedmont Technical College Edgefield County Center. As part of an assignment on marketing their work, students are required to submit an application to a gallery out of their area.
"We were required to apply to a gallery where no one knew us so that we could be judged solely on our work," Bachinski said.
She applied to the Foothills Artisan Center in Chesnee. The gallery displays work from artists across North and South Carolina. She submitted six to eight images of her work, an artist's statement and a resume to the gallery that was presented to a jury. Bachinski was selected.
"It was such an honor to be accepted," she said.
Bachinski has eight to 10 functional pieces on display. She also has four unusual pieces – stoneware yardbells. The inspiration came from a potter in North Carolina.
"He made these, not as his main work, but he had a couple hanging from his studio and I was so intrigued by them," she said.
During an independent study portion of the program, Bachinski said she chose the yardbell as her design she wanted to perfect. And she has been making them for the past two years.
"What's been exciting about that for me is to see how they've changed over time, the design and the mechanics of how they work," she said. "It's been not just pottery, but it's been a little bit of woodworking, a little bit of physics to figure out tones."
Bachinski started taking pottery classes through a local artisan in Augusta in 1999. When she moved to Greenwood, she set up a space behind her house, but said she was learning as she was going.
"One day I was looking through a national clay magazine and was amazed to see an ad for Piedmont Tech's program," said Bachinski. "I talked to a friend of mine who was also interested, and she and I started night classes."
Bachinski took night classes for three semesters and then quit her job as an administrator at Cambridge Academy.
"I decided that I needed to be doing this full time."
Bachinski earned the professional clay certificate in May and will complete the advanced professional clay certificate in December. She says she is thankful for the support she has received from her husband, Matt, and her sons Will and Nicholas.
"They still are all amazed when I bring a piece home that looks professional," she said.
"Laura is a great student who is very motivated," said Gary Clontz, program coordinator and instructor. "She has begun to develop her own style and direction and you can see it in her pieces."