PTC Student Finds Her Own Path
Malaurie Hullings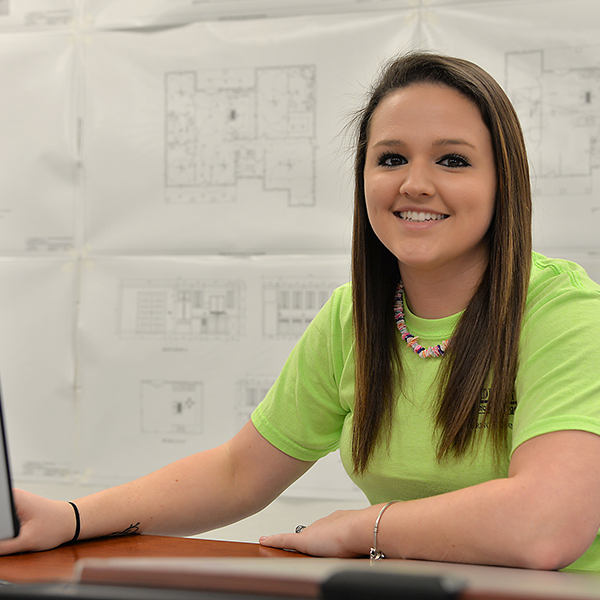 Engineering Design Technology Major

Malaurie Hullings has never been the type to follow the crowd. She loved physics and math, two subjects that many of her friends avoided. It proved to be the key to her future. "My aunt, who is a life coach, asked me what my future plans were," said Hullings. "I was good at problem solving and curious about how things worked and she pointed me toward engineering."
While attending McCormick High School, Hullings had taken classes from Piedmont Technical College through the Middle College program. The Plum Branch native graduated valedictorian and earned several scholarships to larger universities, but wanted to stay close to home. Her family encouraged her to look into the electronic engineering technology (EET) program at PTC, so she enrolled. She stayed in the EET program for two semesters until she took her first CAD class – and fell in love with engineering graphics technology (EGT).
"When I started at Piedmont Tech, I had already completed most of my prerequisites," she said. "I decided I would start on some of the classes required to transfer for my bachelor's degree and that's when I took my first CAD class. I loved it and knew that's what I wanted to do."
The engineering technology programs usually lead to a male-dominated field and Hullings says that is one of the challenges she enjoys the most.
"I was the only female in the EET program and now I'm one of only two girls in the EGT program, but I love that," she said. "A lot of the guys look at us and think we won't last or that we can't handle the work. I love proving them wrong."
Hullings said she feels she made the right choice with Piedmont Technical College. The hands-on training she has received was just what she hoped it would be.
"I didn't want just the books. I had been taught books for the past 14 years through the public school system," she said. "Piedmont Tech gives you that hands-on experience that you need to go out into the workforce."
Hullings encourages anyone, male or female, to follow their dreams and consider Piedmont Tech.
"I firmly believe that anybody can do anything that they want to do if they set their mind to it and Piedmont Tech is great about offering help," she said. "You just have to keep your head strong, keep your mind focused, use the available resources and take your work seriously, you'll breeze right through."