PTC helps student be better prepared, more confident
Megan Deason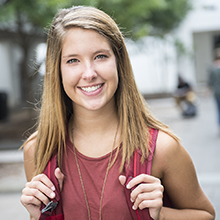 Patient Care Technician Major
Graduation Date: May 2018

Ultimately, Megan Deason is interested in becoming a nurse. But in the meantime, she sees the Patient Care Technician program at Piedmont Technical College as a way to get to work in a hospital environment more quickly—and to start developing some of the knowledge she'll need when she decides to go on.
"I'm going to be better prepared than I would have been had I gone in straight from high school," Deason said. "It'll make me a lot more comfortable and confident."
Deason intends to earn her associate degree in nursing at Piedmont Tech and enroll in the bachelor's degree program at Lander University. "I want to find where I belong in a hospital even if it's in a helicopter," she said. Heights don't bother Deason who skydives and wants to be a flight nurse. Her stepdad is an EMT, paramedic, and a deputy coroner. "He talked to me about flight medicine and says I'm a good fit for it," she added.
A high-flying career wasn't on her mind in childhood. Like many students, she dreamed of being a veterinarian or a teacher. The medical field won out.
"It provides room to change and gives me a chance to explore," said Deason. "I can go into different areas of a hospital and find room to grow and learn."
As for PTC, Deason said it fit her family's financial situation and her lifestyle. "I'm able to schedule classes in the evening if I need to work during the day," she said.
The smaller class sizes let her better know her classmates. "They're the people you learn with and you get close to them," said Deason. An experience that stuck with her was studying with students for an anatomy exam. "We became like a little family," she added.
Her advisor wants her to reapply to the nursing program. Deason will finish Patient Care first then get into nursing next fall. Whether it's the emergency room, neonatal care, or being a flight nurse in a helicopter, Megan Deason intends to make her nursing career count.
"I'm ready to get into the hospital and start working, getting experience and helping people," said Deason.
Video