Twice the Salary with a Two Year Degree
Valerie Fennel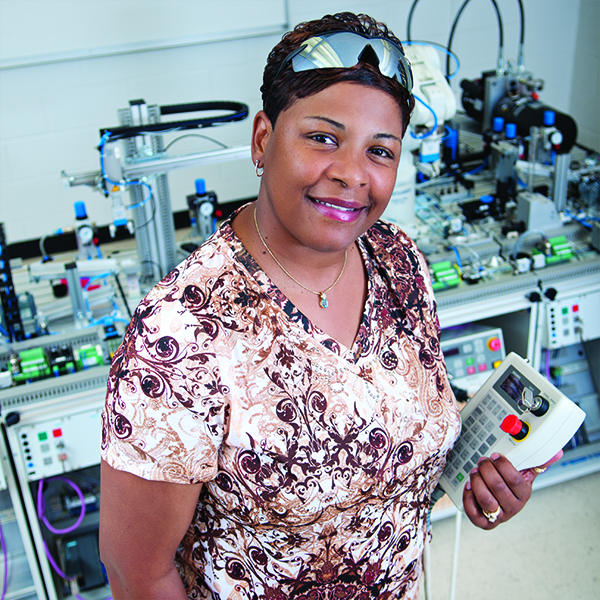 Mechatronics Technology Major
Graduation Date: 2011
Currently: GE Aviation

After completing degrees in both Mechatronics and Industrial Electronics, Valerie Fennell says she's found her niche—and she's doubled her salary, as well.
After working in industry for years, Fennell had reached the point in her career where she needed to pursue certification in order to advance.
"To move up, the manager said they needed people with a more technical background," she said. "I had the experience and background, but not the education to go with it."
Fennell enrolled at Piedmont Tech intending to pursue just a certificate, but not without some anxiety.
"I was terrified," she said. "I thought, 'I'm not going to be able to do this' because I worked full time, and I attended school full time as well. But I was so into learning that it just came easy to me. Some of the classes were definitely a challenge, but the teachers help you when you need it."
Then she found out about the Mechatronics Technology program. "The more classes I took, the more interested I was in it," she said.
Fennell says she has always been inquisitive about how things worked and the Mechatronics program was a niche for her. But, she didn't stop there. In May 2011, Fennell graduated from Piedmont Tech with an associate degree in Mechatronics and an associate degree in industrial electronics technology.
With her new degrees in hand, Fennell has moved on to a job with more advancement potential.
"There are only six classes different in the two degrees, so I decided to stay on and complete both," said Fennell. "The programs intertwine and really play off of each other. The electronics are a big part of the Mechatronics." 
With her new degrees in hand, Fennell has moved on to a job with more advancement potential at GE Aviation in Piedmont, where she is one of only 11 women on the floor.
"It's intimidating to some women, but it's not to me because I have been in technical positions before, working alongside men," she said. "But, a woman is just as capable of doing the job as a man."
Fennell said she had nothing but praise for the program and how well it prepared her to go into the field.
"The Mechatronics lab at PTC is set up exactly like our cells at work," she said. "If you take this program, there's no way you would not get an interview, with companies knowing that you have this background. With this degree, I can be a lot more choosey about the positions I apply for. It's definitely a plus to have come to PTC."