Grad Turns Love of Technology into a Career
Wesley Allen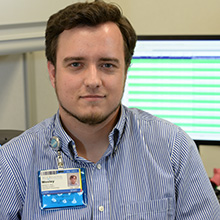 Computer Technology Major
Graduation Date: 2010
Currently: Self Regional Healthcare

Wesley Allen has been interested in computers since the age of five.
"My grandfather actually worked in IT and he kind of fostered that love of computers," said Allen. "So, as I went on through school I continued with it. I built my first computer in high school and carried on from there."
Allen carried on by landing an internship at a local computer repair store in Sumter, South Carolina, where he lived at the time. After graduating from high school, that internship turned into a steady job that provided insight into what Allen would eventually choose as a career. The experience further strengthened his love of technology.
"I love technology," said Allen. "I really enjoy all of it. I especially enjoy how connected we are today worldwide."
After he graduated from high school and worked for a little while, Allen and his family moved to Greenwood where he decided to attend Piedmont Technical College. He started out in one of the college's engineering technology programs, but quickly gravitated back to computers. He graduated from the college's computer technology program in 2010.
"I really enjoyed the hands-on atmosphere in the classroom," said Allen. "I'm a visual person and I'm really hands-on. So once we went over the material, it was nice to get in the lab and cover what we were learning in class."
"Piedmont Tech definitely had a lot to offer for me," he added. "The small class sizes, the technology that was offered and the location, were really key in my decision to go there."
While at Piedmont Tech, Allen had an internship at Self Regional Healthcare that turned into a real career opportunity for him. "Prior to graduating Self Regional called me about an interview for another position that was after hours," he said. "The week after I graduated, I started orientation for my first job at Self."
Allen has worked for the company for six years, where he is currently working as an information security analyst. "I'm helping our clinical folks on the frontline by keeping their data secure," he said.
For those who are considering a degree in computer technology, Allen said "You really want to have an appreciation of computers. There's hard work involved for sure, but it pays off."