Piedmont Tech Nursing Student Recognized as Newberry Student of the Year
Willie Washington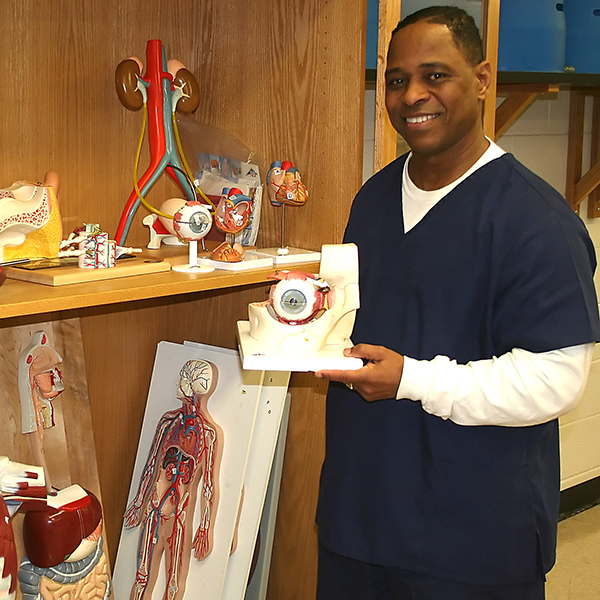 Nursing Major

Willie Washington is set to embark on his second career, and it is a radical change from his first.
Washington came to Newberry after serving 30 years in the United States Marine Corps. He served as a teacher, drill instructor, served in combat situations, implemented new computer systems and worked on the Presidential military staff under President Clinton. Upon retirement, he looked into several options for a new career.
Washington earned an Associate of Science degree from the University of South Carolina, a BA from Saint Leo University in Saint Leo, Fla. and a master's
degree from Troy State University in Montgomery. He thought business was in his future.
"I started out wanting to pursue a degree in business," Washington said. "Then I thought about it and I really wanted to do something where I'm helping people."
So Washington came to Piedmont Technical College with goal of pursuing a degree in nursing. He has completed his prerequisite courses required to enter the ADN program and is currently enrolled in the CNA program.
"I am engulfed in the concept of the nursing program. I think it, I eat it, I sleep it," he said. "I feel this is something I am meant to do."
Washington has been recognized by the Newberry County Campus as the 2011 Student of the Year. He holds a 3.55 GPA and devotes more than 40 hours a week in tutoring students in anatomy and physiology, biology and medical terminology.
"I believe anything I know I can teach anyone," he said. "The key is taking the difficult words and breaking them down to plain language and then relating that back to the technical word."
Washington gives a lot of credit for his success to Mark Renwick, biology instructor at Newberry. He says that Renwick's commitment to helping his students pass their classes inspired him in helping his fellow students.
"I am so dedicated to the tutoring because he is so dedicated to the teaching," said Washington. "He went above and beyond to help me get through anatomy and physiology, so now I have the opportunity to go above and beyond to help other people get through anatomy and physiology and then eventually reach their goals."