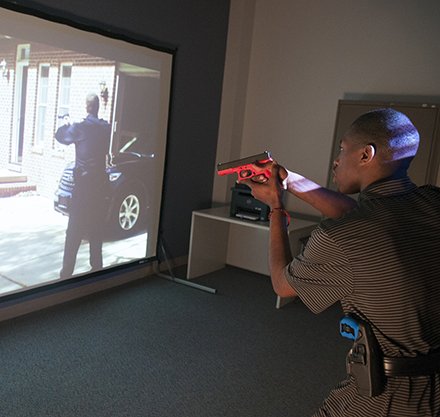 Ahead of the Curve on 'Protect and Serve'
July 20, 2018
The ability to effectively protect and serve the public takes a special type of individual, someone with both empathy and acute critical thinking skills, someone with moral conviction and respect for the rule of law.
Piedmont Technical College's associate in applied science (AAS) degree with a major in criminal justice offers a solid foundation that graduates can take immediately into entry-level public service work or build on by transferring into more advanced studies at a four-year institution. Students who choose the AAS in criminal justice path at PTC receive a comprehensive introduction to criminal justice concepts such as criminology, constitutional law, juvenile delinquency, police-community relations and evidence science as well as insight into the courts and corrections systems.
"Our goal at PTC is to provide students with the educational background and tools to succeed no matter how far they want to go professionally in the criminal justice system," said Josh Lindsay, PTC's criminal justice program director. "Our faculty brings a broad range of experience in a variety of settings to the lab and classroom. They are uniquely qualified to help students make important career choices from the range of options available."
Entry-level criminal justice job options include:
• police officer;
• sheriff's deputy;
• dispatcher;
• corrections officer;
• state trooper;
• security officer;
• juvenile court officer; and
• probation technician
Because today's law enforcement work depends heavily on scientific methodologies and technology, PTC has invested in state-of-the-art laboratory facilities to enable students to participate in realistic police training simulations and to practice common crime scene evidence collection and analysis exercises. Students have access to a mobile crime scene processing unit as well. Special software lets students reconstruct crime scenes and facilitate suspect sketches.
PTC's firearms training system safely simulates real-world situations in a controlled environment that would be impossible to replicate otherwise. Few colleges in the region have the capacity that PTC has to offer high-tech, simulated law enforcement curricula.
Toward the conclusion of the program — with a background check and basic coursework soundly under their belts — students embark on a 90-hour criminal justice internship with a participating agency of their choice.
"I am a huge advocate for the value of practical, hands-on experience," Lindsay said. "In the workplace setting, students can observe real-world professionalism, learn policy and procedures, and interact with criminal justice authorities."
PTC enjoys positive working relationships with agencies all over the region, and officials work diligently to ensure that students are placed with agencies that match their interests.
"The demand for criminal justice practitioners remains strong across the Southeast, and the range of opportunities is vast," Lindsey said. "I am extremely confident in the ability of our graduates to secure fulfilling positions that will allow them to thrive professionally and personally."
PTC criminal justice graduates earn an average starting salary of about $28,000 and have strong potential for advancement.
For those interested in pursuing education beyond their associate degree, PTC maintains agreements with several four-year institutions that readily accept transfer credits toward bachelor's and higher degree programs in criminal justice. PTC also offers programs that benefit experienced practitioners wishing to add new skills.
"Many criminal justice practitioners who have been employed for years with various agencies come to PTC seeking updated training and certification so they can qualify for professional advancement mid-career," Lindsay said. "Between our accomplished instructors and innovative facilities, PTC produces some of the most qualified, highly skilled criminal justice graduates in the state."
From Recruited to Recruiter
Newberry Police Chief Roy McClurkin has witnessed a lot in the three-plus decades he's ascended through the department, from patrolman to corporal to sergeant to captain and now as chief. The Whitmire native knows what it takes to persevere, even when some cases may be sad or even disturbing. Staying calm. Using sound judgment. Maintaining professionalism. It all comes from training, and before that, the educational foundation to support a career in criminal justice.
Chief McClurkin knows the quality of a Piedmont Technical College education because he received one, having studied criminal justice himself at PTC. When the Newberry Police Department contacted campus officials in search of new talent, McClurkin's academic advisor suggested he apply. And the Department hired him as a patrolman in 1983.
Now when Chief McClurkin sees the need to fill new positions, he turns to a familiar, trusted source — PTC.
"The criminal justice program at PTC has a long and successful history that has benefited this department and other departments within this area," he said. "I am a product of the program. That is why I am involved. They turn out great people."
PHOTO CUTLINE
A PTC student learns how to make quick decisions that might require lethal force while using the college's lab simulator.