Benefactors and Community Leaders Honored by PTC Foundation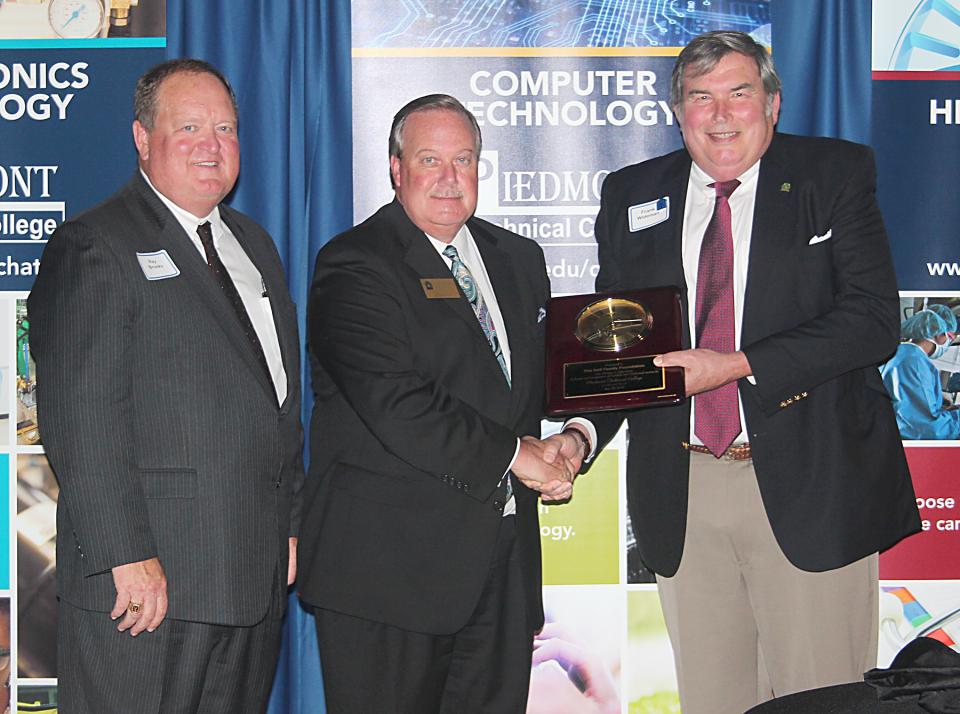 Benefactors and community leaders joined together at Piedmont Technical College recently to celebrate the successes of the past year with the annual benefactors' event.
Fran Wiley, Piedmont Technical College Foundation executive director, welcomed those in attendance. The event was to honor Cornerstone Society members and benefactors who had contributed to the growth and success of the college.
"Tonight is all about those who support the college and about the many people who generously give," she said as members of the Cornerstone Society were recognized.
Dr. Ray Brooks, president of PTC, thanked the donors on behalf of the students.
"We have the privilege and opportunity every day to work with students who are seeking out a career to better themselves and their families," he said. "Without this Foundation, that would not be possible."
The newest members of the Cornerstone Society, Walter and Glenda Ridgley, were introduced and special recognition was made for the Self Family Foundation, a long-time supporter of the college.
The Self Family Foundation and Piedmont Technical College have been business partners for more than 30 years. Through this partnership, several major projects were completed including the building of the James C. Self Conference Center; the expansion of the Engineering Technology program through the addition of the Computer Aided Drafting (CAD) program; continued support for the expansion of the Associate Degree Nursing program; funding for computer labs to assist the developmental studies program; the creation of the Piedmont Education Network (PEN) which connects all seven campuses with distance learning fiber optic technology; and most recently, funding for a Virtual Desktop Infrastructure (VDI) network to upgrade computing technology for many of the academic programs at the college.
"This 30 year review of the highlights of the philanthropy of the Self and Self Family Foundation has resulted in approximately $775,000 of financial support for Piedmont Technical College," said Wiley. "For this partnership, we are truly grateful. Your partnership and generosity across the decades have helped improve the quality of life in our area through your support of the educational programs and services of Piedmont Technical College."
Photo Caption: In recognition of their support of Piedmont Technical College, the Self Family Foundation was honored at the recent Cornerstone Society event. Pictured are, from left, Dr. Ray Brooks, president of Piedmont Tech; Jim Medford, chairman of the Piedmont Technical College Foundation; and Frank Wideman, executive director of the Self Family Foundation.