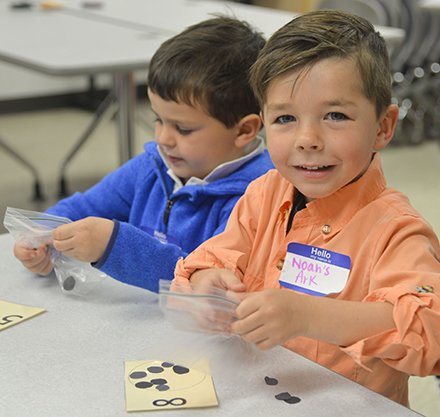 Children's Books and Creative Nooks Power PTC Literacy Day
May 14, 2018
Pint-sized buses arrived with their adorably diminutive cargo at Piedmont Technical College's Lex Walters Campus-Greenwood last month just in time for the early care and education (ECE) program's fun-filled Literacy Day, an annual event now in its fifth year.
"Literacy Day is something our (early care and education) students work on for most of the school year," explained Claudia Edwards, director of the ECE program. "The goal is to help children understand how important reading is and to make it fun. It's also an opportunity for our students to integrate subjects within a theme."
The theme this year was supplied by best-selling author Laura Numeroff's widely popular 1985 book, "If You Give a Mouse a Cookie." As you might expect, "cookie" was an operative word in the day's activities, which incorporated cookies into many decorations, art projects and counting games. It and other titles in Numeroff's series of children's books were purchased especially for the occasion.
"The book is very well-loved," Edwards said. "Every child received a book from the series, and the teachers also received some copies to take back to their classrooms."
Literacy Day used to be an event sponsored by Greenwood School District 50 at the Greenwood Mall. When that was discontinued, the ECE program decided to pick up the torch and has carried it since 2013, inviting local early care and education centers to participate.
Throughout the months leading up to Literacy Day, PTC ECE students conduct a series of fundraising events ― from bake sales and car washes to a Halloween costume contest ― to generate enough money to purchase books and materials to engage and inspire nearly 100 energetic 4-year-olds from area preschool education centers.
At 15-minute intervals, the groups of children rotated through a series of classrooms featuring a variety of different activities such as music and dancing, math games, art and children's book readings.
Dr. Marilyn Izzard, director of teacher education at the University of South Carolina Upstate (USCU), was a special guest at the event. She entertained the children with her special storytelling skills while modeling creative classroom management techniques for PTC student observers. The accomplished USCU educator understands about humble beginnings and gradually achieving educational milestones in pace with changing circumstances of real life. Izzard has a story that PTC students may find relatable.
"I worked as a teacher's aide trying to get a degree for 10 years," she said. "Then I worked for another six years to get the next one, and three more years for the next one. I had challenges because I had a family to care for over the years."
Izzard is candid about an alternate agenda for accepting Edwards' invitation to participate in Literacy Day. "I have been trying to recruit students from Piedmont Tech for a while now," she said. (USCU is one of many four-year institutions that accept transfers from PTC.) She was impressed with the quality of the students at PTC.
"I thought they were very creative and that they (the PTC students) worked great together. The whole event was planned and organized really well," Izzard said. "It was beautiful and exciting, and it engaged the children from the moment they walked in the place."
Several ECE students and an adjunct instructor from PTC's Laurens and Newberry campuses also provided assistance with the event, PTC Instructor Rhonda Hull added. The event not only gave PTC students an opportunity to engage face-to-face with the preschoolers, but it also gave their regular teachers a deserved break.
"We fed them breakfast," Hull said, and they were able to relax in a lounge while the PTC students took over for them. "Many of these teachers tell me this is their favorite field trip of the year!"
"I thought the whole day was just an excellent day. Everything stayed in order even though we had a lot of kids," said PTC student Catheryn Williams. "All the children were very obedient and never really got out of hand. They were very good listeners, and that was one of the things that really stood out to me."
PTC student Lexie Padgett was in charge of decorations and managing activities, ensuring everyone was on the same page. "It was pretty awesome. My classmates did a really great job of hand-drawing the characters (in the displays). I was really proud of them for doing that," she said. "I think my favorite part was seeing the children's reactions, seeing their emotions light up."
Another PTC student, Darian Cribbs, appreciated the opportunity to create a welcoming environment for the children:  "It was nice to have the children come here and be in our space, since we're usually the ones who are going out to them."
"It was really a great experience. It got us ready for what we will be dealing with," said PTC student Jimaya Williams. "It helped me to know this is what I want to do."
"This is, by far, the biggest thing we do," Edwards said. "I know for me, it's my favorite day of the semester. It's neat to see everything coming together. The students can see that their hard work pays off."
Dr. Izzard not only enjoyed herself and the opportunity to keep up her classroom skills on PTC's Literacy Day, she also was grateful for the chance to convey to PTC early childhood education students how critical their choice to become educators truly is.
"I wanted them to know how important they are to our society, and I talk to them about being a teacher," she said. "That is my main goal. I also hope they will consider coming to USCU. Of course, I also say that it doesn't matter where you go to school; we just need you as teachers. We need great teachers out there."
For more information on the ECE program, contact Edwards at (864) 941-8448 or edwards.c@ptc.edu.