Engineering Technology students are prepared for rewarding careers
From Apple's iPad to the latest innovations in energy efficient transportation, we hear about how new technology continues to change the way we live every day.
If you're fascinated by how big an impact technology has on our lives, and you enjoy a hands-on approach to problem-solving, a career in engineering technology might be right for you.
Sandy Warner, department head of PTC's Engineering Technology program, explains that engineering is at the heart of every facet of modern life. Engineers develop the concepts for solving problems—such as creating more energy efficient cars—and work to improve existing technology.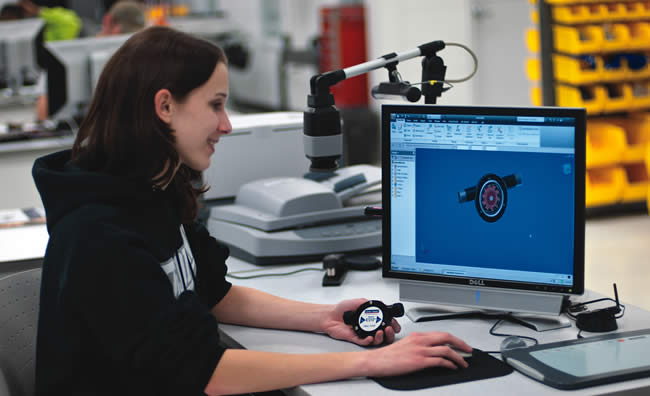 "And all of those concepts have to be put on paper and designed to come to fruition," Warner says. "That's what engineering technicians do—they take an engineer's concepts and make them a reality."
A Rewarding Career in a High-Demand Field
Piedmont Tech's Engineering Technology program offers real-world training that will teach you the practicalities of engineering rather than pure concepts or theories. Engineering technology students acquire hands-on technical skills that enable them to solve production and system implementation problems and help them explain solutions.
For Todd Dickson, a recent graduate now employed at Capsugel as a CAD detailer, this focus on practicality has paid off.
He says, "For anyone who's not sure what to do about college, Piedmont Tech and the Engineering department is the way to go."
Dickson landed his position as the result of a semester-long internship that was part of his senior engineering graphics technology project. "Not only are there a lot of job opportunities after completing this degree, but in the meantime, while in school, there will never be a time when help isn't just a question away," he said.
According to the Bureau of Labor Statistics, the median salary for technicians in this field is $54,800.
The PTC Engineering Technology program has produced graduates whose skills and abilities have helped them obtain excellent jobs and pursue advanced degrees for decades. Careers that require a high degree of technical expertise tend to be well-paying, Warner says, and that's true for engineering technology. According to the Bureau of Labor Statistics, the median salary for technicians in this field is $54,800.
She says that although most engineering technology graduates go to work in advanced manufacturing—an area that's been identified as a high growth industry for the United States—they're qualified to work in a wide variety of fields, including civil and architectural engineering, construction, and many more.
"Our graduates are really in demand in any field that requires an engineering support function, and every aspect of modern life involves engineering to one degree or another," says Warner, "so there's a lot of opportunity out there."
Hands-on Training and Personal Instruction
Each of the four majors in the program—Electronic Engineering Technology, Mechanical Engineering Technology, Engineering Graphics Technology, and General Engineering Technology—is focused on the needs of employers, so graduates can be sure they'll be well prepared to enter the job market in their chosen fields.
Warner and her fellow instructors work diligently to make sure students in the program are getting instruction in the latest technology so that the transition into the workplace will be a smooth one.
Dickson says, "While at PTC I earned my Mechanical Engineering Technology degree as well as an Engineering Graphics Technology degree with a CAD certificate.  These two programs fully cover a day to day job in industry."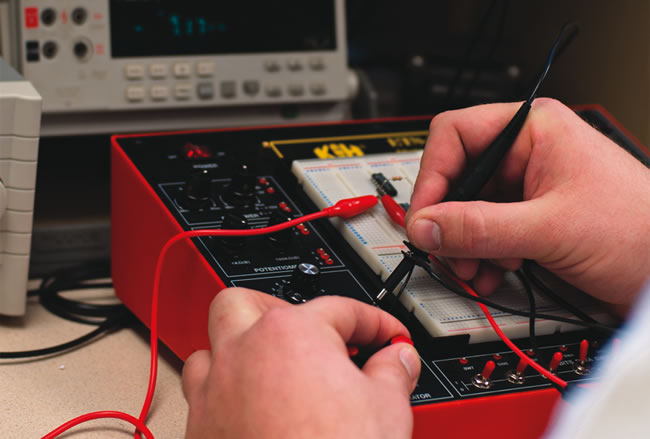 For James Poston, a graduate who's been working in the field for over 20 years, it was the degree of real-world instruction that made the difference.
"The parts of the program that dealt with manufacturing processes were extremely useful. How things are made, how to select materials, machining and assembly methods…. All of these are important during the design process as well as when preparing detailed drawings," he said.
All students can count on personal attention from the instructors.
"We try to take a personal interest in everyone's goals and help them to get there, whether that means helping to get them up to speed with the math, or helping them prepare for job interviews," said Warner.
Lowering the Barriers to Professional Success
Although careers in the world of engineering can be extremely rewarding, the cost of a degree at a four-year institution and the time commitment involved in pursuing a bachelor's degree are major obstacles for some.
Piedmont Tech's Engineering Technology program lowers most of the barriers to entry into the field.
A student attending PTC can expect to pay about half the tuition they'd owe at a four-year university, and the college offers day and evening classes to help students schedule their course work around existing responsibilities. To further offset the cost of attendance, PTC offers exemption credits toward an associate degree to high school students who've completed Project Lead the Way credits.
For many students, the wide variety of options designed to increase the program's accessibility make PTC a perfect fit.
As with any career, higher levels of education open up additional options for graduates.  Warner explains that the program now makes several seamless transfer options available to students who wish to pursue bachelor's degrees in engineering after graduation. Transfer agreements are in place with USC Columbia, USC Upstate and South Carolina State University. The South Carolina State bachelor's degree can be completed entirely on the PTC Greenwood campus.
"We're always working to make additional opportunities available to our students," said Warner. "If you start here, you can get into the work force and earn a good salary after just two years in college, or you can save a lot of money on your bachelor's degree by taking advantage of one of our transfer options. Either way, Piedmont Tech is a great option for anyone interested in engineering."