Horticulture Program Welcomes New Coordinator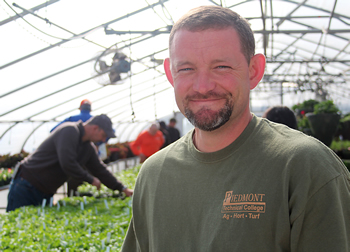 Murdock earned his bachelor's and master's degrees from Clemson University. Following graduation, he opened his own landscaping company. But he decided that wasn't for him.
"Self-employment is a 24/7 job," Murdock said. "I enjoyed it and we did well, but I wanted to do something else."
The opportunity arose for him to enter the teaching field. Murdock taught one year of middle school before settling into Pendleton High School as an agriculture teacher. After seven years and establishing a successful program, Murdock was open to new opportunities.
Murdock comes into the Piedmont Tech program with the desire to continue to expand the program, especially in the area of local high school FFA chapters.
"There is so much opportunity for growth in this program," Murdock said. "An excellent foundation has been laid here, but we can continue to see it grow. Reaching into these agriculture and FFA chapters can help it to flourish."
Murdock draws on his high school experience to know what will appeal to students and he hopes to use that not only as a recruiting tool for incoming PTC students, but also for students who plan to transfer to four-year universities like Clemson.
"Every student in the high school ag classes say those classes are their favorites because the teacher cares about them and looks out for them," he said. "When they get here, I want them to have that same experience and to know they have an advocate."
Murdock said he is excited to start and the future of the program looks bright.
"What is offered here and in Saluda is so unique," he said. "We have an opportunity to develop this program throughout the state."