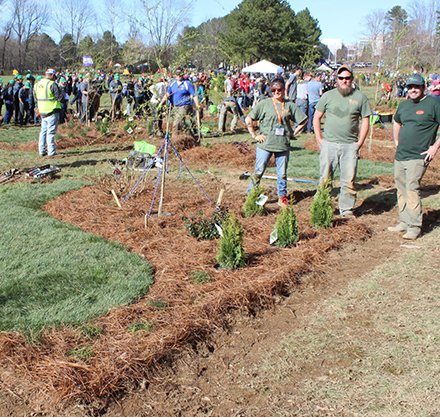 Horticulture Students Compete in National Landscape Competition
March 23, 2018
Almost as soon as we spring forward one hour, the extra daylight draws casual gardeners outside to begin prepping their yards for the season. A team of four Piedmont Technical College horticulture students led by PTC Horticulture Program Director Daniel Greenwell approached the growing season with a slightly more professional eye when they traveled to Alamance Community College in Graham, North Carolina, to compete in the 42nd annual National Collegiate Landscape Competition held March 14-17. After the pine straw had settled, PTC's landscape plant installation team finished 16th out of 58 teams, even beating out teams from several large four-year institutions such as North Carolina State University, Mississippi State University, Virginia Tech and Michigan State University.
Designed to cultivate, inspire and showcase the talents of the next generation of lawn and landscape professionals, the annual competition provides the nation's top students enrolled in interior and exterior horticulture programs at two- and four-year colleges and universities the opportunity to hone their skills and connect with professionals from the field. More than 750 students competed for top honors in a total of 30 team and individual events that ranged from plant foliage quizzes, 3-D exterior landscape designs, and arboriculture techniques to plant problem diagnoses, hardscape installation, and truck and trailer operation.
"Not only did our students get to put their skills and knowledge on display in a beautiful setting, but they also attended workshops and networked with representatives from more than 100 landscape, lawn care, tree care, irrigation, and other horticulture-focused companies as part of the career fair," Greenwell said. "This was a chance for these students to see how massive, friendly and professional this industry is by interacting with the top students and industry professionals from all around the country."
"Most people from our area would not normally have the opportunity to attend a national event like this," said PTC horticulture student Diana Fetters of Abbeville County. "It is really a great opportunity to see how much is out there."
"This event each year is the best opportunity to support and connect with the next generation," said Sabeena Hickman, chief executive officer of the event's organizer, the National Association of Landscape Professionals (NALP). "The fact that we have participation from top industry companies and suppliers is a testament to the talent of these students and to the competitive workforce environment we find ourselves in."
Major sponsors for the competition included STIHL Inc., John Deere, Caterpillar, Inc., Kubota, Greenscape and Husqvarna. For further details, visit www.landscapecompetition.org. For more information about PTC's Horticulture Technology Program, visit www.ptc.edu/horticulture.
PHOTO CUTLINE​
PTC students (from left) Diana Fetters of Abbeville County and Michael Franks and Harry Weisner, both of Laurens County, with their landscaping project.