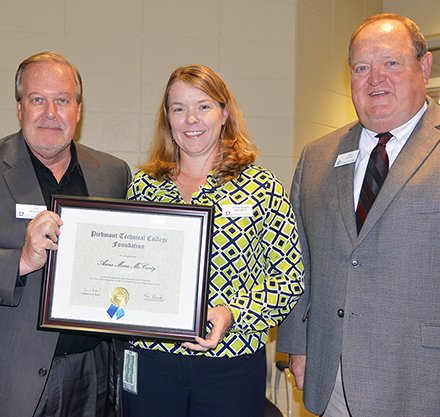 Lonza Executive Named to PTC Foundation Board
October 23, 2018
The Piedmont Technical College (PTC) Foundation recently welcomed Anna Marie McCarty to its board of directors.
McCarty is senior manager of operations of Lonza in Greenwood. She is a member of First Baptist Church of Clinton, where she serves on the College Committee and as a Children's Church leader. A lover of plants and blooms, McCarty is a member of Four Seasons Garden Club and is also active in the Beech Lake Homeowners Association.
In addition, McCarty works with the Clinton High School CAT Program (Carolina Alliance for Technology), which is one of just four programs statewide receiving federal grant funds to provide students with meaningful, hands-on learning experiences with several partner organizations, including ZF Transmissions, Bosch Rexroth and Blue Cross Blue Shield of SC.
"We are delighted to welcome Anna to the Board," PTC Foundation Board Chair Jim Medford said. "We need fresh voices at the table that also reflect the perspective of manufacturing leadership in our community. We look forward to working with Anna in advancing the Foundation's mission of providing opportunities for intellectual and economic growth."
"I am excited to be a part of the PTC Foundation Board. In just two meetings, I have already recognized the passion and desire to strengthen our community through investing in education and training," McCarty said. "People in different points in their life can benefit from the mission of this Foundation. Being a part of the board will allow me to engage and give back to the community while building a stronger workforce for the Upstate."
PHOTO CUTLINE
New PTC Foundation Board Member Anna Marie McCarty (center) with Board Chair Jim Medford (left) and PTC President Dr. Ray Brooks.