Massage Therapy: Putting Touch Back into Health Care
April 25, 2012
An interest in health and wellness, a solid understanding of how the human body works and a desire to help people are the perfect combination for a successful career in massage therapy.
And right now, massage therapy is one of the fastest growing career fields in the nation.
Much More than Just a Back Rub
"Massage therapists provide maintenance in a world that is structured for stress," said Michelle Liggett, Massage Therapy Program director and instructor.  "We provide a release, both mentally and physically."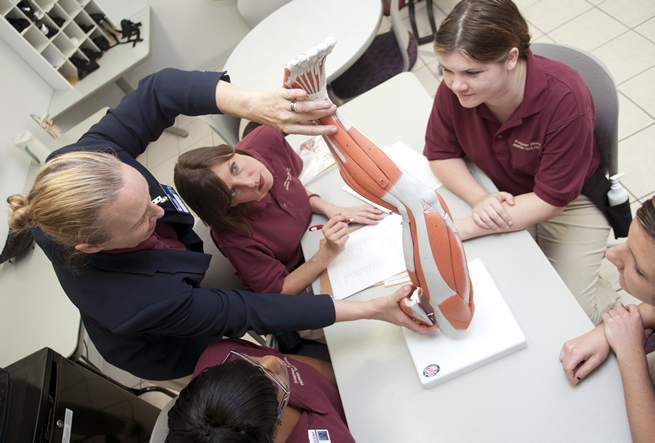 Liggett said that it's often an eye-opener for students when they begin to see how much of an impact massage therapy can have on the quality of their clients' lives, not to mention their own.
"This is an occupation where everyone wins," Liggett said.
In the recent past, massage therapy has served as a stepping stone into other medical fields for some students.  Liggett said that today, more students are going into massage as a primary occupation.
"Holistic approaches toward wellness  like massage therapy are becoming a much more integral part of health care in the U.S.—both due to the incredible physiological benefits, and the rising costs of medical treatment," she said.
Recognition of massage therapy as an ancillary treatment and preventive measure by the broader medical community is growing.  Medical practitioners from dentists and doctors, to chiropractors and surgeons are now employing massage therapists or referring their patients to therapists for everything from temporomandibular joint disorder to carpal tunnel syndrome.
Liggett said, "Massage therapy is more than just a Swedish massage these days.  It requires you to know how movement occurs so rehabilitation can take place.  This means therapists are also pain managers and must understand muscles, their origin, insertion, and action."
PTC students learn more than just a therapeutic stroke. They must learn basic pharmacology, anatomy and physiology, kinesiology, pathology, and medical terminology so that they can critically determine what the best course of treatment is for each client. 
Graduates from the Massage Therapy Program have gone on to find jobs in a wide variety of settings—from health care, to spas, cruise lines and fitness centers.
Completion of a certificate in Massage Therapy at PTC prepares students to sit for testing through the National Certification Board for Therapeutic Massage and Bodywork.
A Satisfying, Flexible Career
"Massage therapy has been and will be around a long time," said Liggett.  "Some of the oldest written texts about the practice are approximately 4,000 years old, and specific massage modalities, such as Reflexology, have been depicted in Egyptian hieroglyphs as forms of hand and foot therapy.   Today, there has definitely been a resurgence regarding massage as a form of medical treatment."
As a career, massage therapy offers great flexibility.  Therapists can work full or part time, and the career offers portability—the skills learned at PTC are marketable anywhere.
It's often an eye-opener for students when they begin to see how much of an impact massage therapy can have on the quality of their clients' lives, not to mention their own.
The field can definitely be financially rewarding.   Depending on capacity, where, and for whom a person works as an employee or contracted professional, therapists can make anywhere from $11.90 to $120.00 per hour to $60,000 a year.
According to the U.S. Department of Labor in 2010, employment for massage therapists is expected to increase 19 percent from 2008 to 2018, faster than average for all occupations.  
"Most of all though, aside from income realized," Liggett said, "massage therapists enjoy knowing they have helped restore someone back to better health."  
 "Our motto in the Massage Therapy Program is:  We Put Touch Back Into Health Care!"  said Liggett.   "This is a great ongoing exchange for both therapists and clients."
Students Receive 'Hands-on' Training at Piedmont Tech
Students in the Massage Therapy Program receive individualized attention in classes with 12-24 students.
Students complete 40 credit hours of instruction, to include lab and 50 additional hours of real-world experience on their own.
To this end, the program provides a community service massage therapy clinic beginning the second semester in January each year, running to a third semester in August.  The operational clinic is run completely by the students under Liggett's supervision, providing everything from Swedish, hot stones, prenatal , and deep tissue,  to neuromuscular therapy, lymphatic drainage,  and reflexology.
"At the clinic students evaluate client medical history, perform consultations, assess and chart individual needs, deliver therapy, manage health care records, schedule appointments, and provide follow-up treatment.   All-in-all, it's more than giving a rubdown and asking for a service fee.  It's labor and educationally intensive," Liggett states.
The three semester day program for a certificate in massage therapy begins in the fall and ends the following fall.  Liggett encourages anyone interested in the program to contact the PTC admissions office, as soon as possible.  Classes fill up fast and the program can only take a total of 24 students.
According to Liggett, "This is a great career choice for anyone with an interest in wellness and in helping others regain a sense of control over their own personal health.   Feeling better across the board in total body is the goal for most people.  Nobody likes living in pain, whether it's induced psychologically or manifested in the physical body.  Becoming a massage therapist is a very satisfying occupation because it reaches out to a community so desperately in need of relief." 
For more information, contact Michelle Liggett or visit the Massage Therapy Web Page.