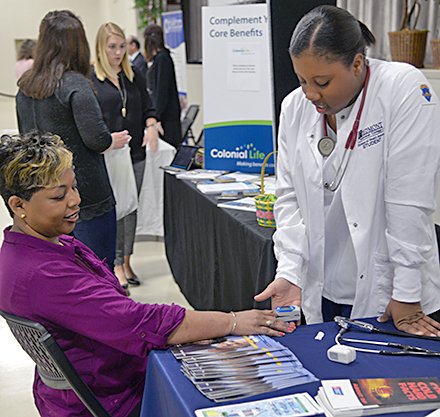 Piedmont Tech Promotes Work-Life Balance and Wellness in Employees
October 18, 2017
Piedmont Technical College is taking an additional approach to helping their students succeed. That approach is to promote a work-life balance and wellness in their employees. This approach is part of Piedmont Tech's strategic directions and goals. It's achieved through ongoing efforts such as PTC's annual Wellness Expo, as well as new amenities such as a faculty/staff wellness center.
"We're trying to take a holistic approach to wellness," said Alesia Brown, associate vice president of human resources.
A 3,000-square-foot fitness center for faculty and staff opened in February in the GC building on the Greenwood Campus. It includes workout equipment as well as an aerobics room.
"The response has been awesome," Brown said. "Providing the wellness center to our faculty and staff has been received very well."
Faculty and staff can use the facility at no cost. It is open from 6 a.m.-9 p.m., making it easy to find a convenient time to fit in a workout. The facility is there to supplement an existing workout routine.
Another way Piedmont Tech makes it more convenient for faculty and staff to enjoy a healthy lifestyle is through the annual Wellness Expo. The latest edition was held in March and once again featured free health screenings that provided employees with information such as their cholesterol levels and blood pressure.
"We make it available here on campus, so faculty and staff can catch potential health issues without having to take a sick leave day for a trip to the doctor's office," Brown said.
In addition to the free screening, which is a $350 value, more than two dozen vendor exhibits offered wellness-related information on topics from medical to financial well-being.
"Each year the vendor list has grown," Brown said.
More than 150 faculty and staff attended this year's expo, which was held at the James Medford Family Event Center.
Some surveys of employers have shown that wellness programs lead to healthier employees which results in a decline in absenteeism.
"When we support and value our faculty and staff, it helps improve morale and overall productivity within the workplace," Brown said.
For a look at more highlights of what Piedmont Technical College accomplished during the 2016-17 year, visit the Annual Report at http://report.ptc.edu.