Piedmont Tech Welcomes New Presidential Ambassadors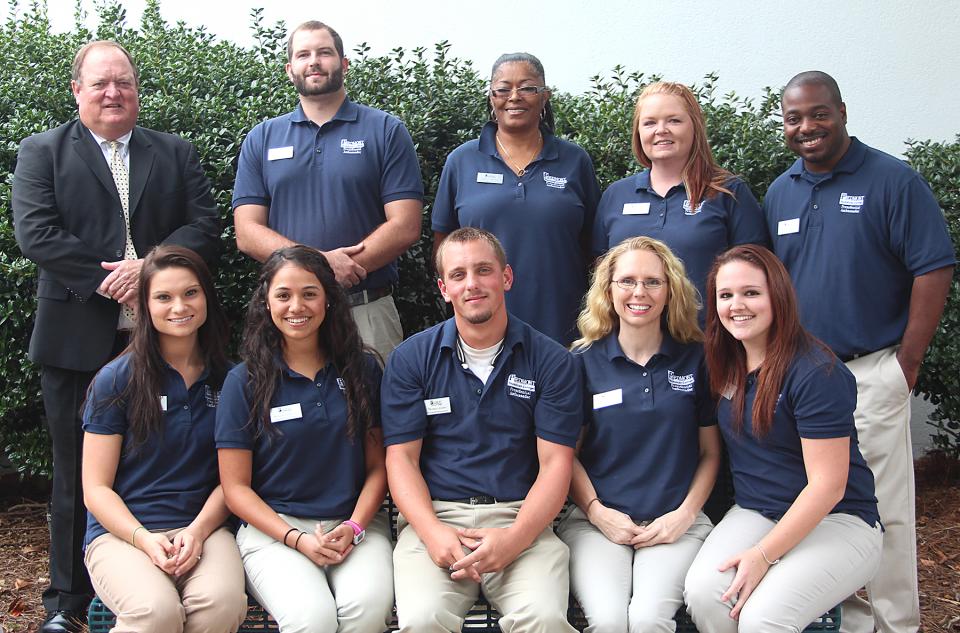 Each year, Piedmont Technical College chooses some of its best and brightest to serve as Presidential Ambassadors. These students represent the college at campus functions, provide tours and speak about their experiences to potential students. This year's select 10 are from a variety of backgrounds, representing many program areas and hometowns, but they all have one thing in common. They all echo a common message of gratitude for the impact Piedmont Tech has had on their lives, both personally and academically.
Thomas Adams has been working in construction with his family for the past five years. Since his brother and sister graduated from Piedmont Tech, the building construction technology program at PTC seemed like a perfect fit for the Ridge Springs native.
"I enjoy doing construction work, but I knew I needed a degree," Adams said. "I knew Piedmont Tech was a good school and I would get a good education." 
Rossana Cubillan came a long way to get to Piedmont Tech. Upon graduation from high school, she left her native Venezuela to pursue an education in America and found her way to Greenwood.
"I did my research and I found out it was a good school to start," said Cubillan. "The Associate in Science program will help me transfer to a pre-med program at a four-year university."
Dami Elliott spent 20 years working in an assisted living facility in Hodges. The Abbeville native made the choice to enter the nursing program and Piedmont Technical College because she wanted something more for her future.
"My goal is to work in the mental health field," Elliott said. "Coming back to school and getting my nursing degree is the best decision I ever made and the right example for my son."
Matthew Gault of Clinton took a long road to get to Piedmont Tech. He attended two different universities before deciding to enroll in the heating, ventilation and air conditioning technology program.
"I worked with a guy doing commercial HVAC installations," said Gault. "I saw it as a more viable career than what I had been pursuing at the four-year universities."
Malaurie Hullings has been connected to Piedmont Tech since her days at McCormick High School. The Plum Branch resident enrolled in the Middle College program at the high school before continuing her education in the engineering graphics technology program at PTC.
"I thought it was awesome that I could graduate high school and already almost have my associate degree," Hullings said. "I was accepted to some of the bigger universities, but I knew I wanted to start here, close to home."
Megan Long of Newberry had her future goals planned out while in high school. She was taking pharmacy technology classes with plans to become a pharmacist. But, she struggled, realizing it was not for her. Then she received a brochure from Piedmont Tech about the radiologic technology program that changed her life.
"I liked biology and the study of the bones, but I had never thought of a career in radiology," said Long. "I thought this was a sign and I enrolled the following week."
Linda Lopez has always had a passion for taking care of others. The Greenwood native wanted more than to just be a good mom, so she enrolled in the associate degree nursing program at PTC.
"The convenience and flexibility as well as the affordable tuition of Piedmont Tech was perfect for me and my family," Lopez said.
Cheryl Mackey found her way to Greenwood from Albany, NY to be closer to her aging mother. When she relocated to the Upstate, she enrolled in computer technology at Piedmont Tech through the Veteran's Program.
"I learned a lot about computers and technology during my service in the U.S. Army," said Mackey. "Once I got out, I knew I wanted to stay in that field."
Tabitha Malone wanted to take time off from her education after graduating from Emerald High School in Greenwood. Through the urging of Sally Cooke, she enrolled in the commercial art program.
"Sally was constantly telling me I needed to come back to school," Malone said. "When she had Kendall Adams contact me, I knew it was what I needed to do."   
Ken Washington spent many years working in customer service. When the Hodges native felt he had reached the point he couldn't go any further, he searched for a better fit and found the mechatronics technology program at Piedmont Tech.
"I've always enjoyed a challenge and solving puzzles," Washington said. "The skills required for mechatronics offer that challenge in a growing field."
Presidential Ambassadors share their stories one-on-one, in small groups, and as part of panel discussions. Ambassadors also answer questions related to academics and campus life.
The Presidential Ambassadors are a select group of second year students who are chosen to represent the president, the college and their program of study. These students are selected on the basis of their academic achievement, college and community involvement, leadership skills and potential and a willingness to give service to the college. Students are selected to provide a broad picture of the "typical" PTC student.
Photo Caption: Each year, Piedmont Technical College chooses some of the best and brightest to serve as Presidential Ambassadors. This year's ambassadors are, front from left, Megan Long of Newberry; Rossana Cubillan of Greenwood; Thomas Adams of Ridge Spring; Dami Elliott of Abbeville; and Malaurie Hullings of Plum Branch. Back, Dr. Ray Brooks, PTC president; Matthew Gault of Clinton; Cheryl Mackey of Greenwood; Tabatha Malone of Greenwood; and Ken Washington of Hodges. Not pictured is Linda Lopez of Greenwood.