Piedmont Tech Welcomes New Presidential Ambassadors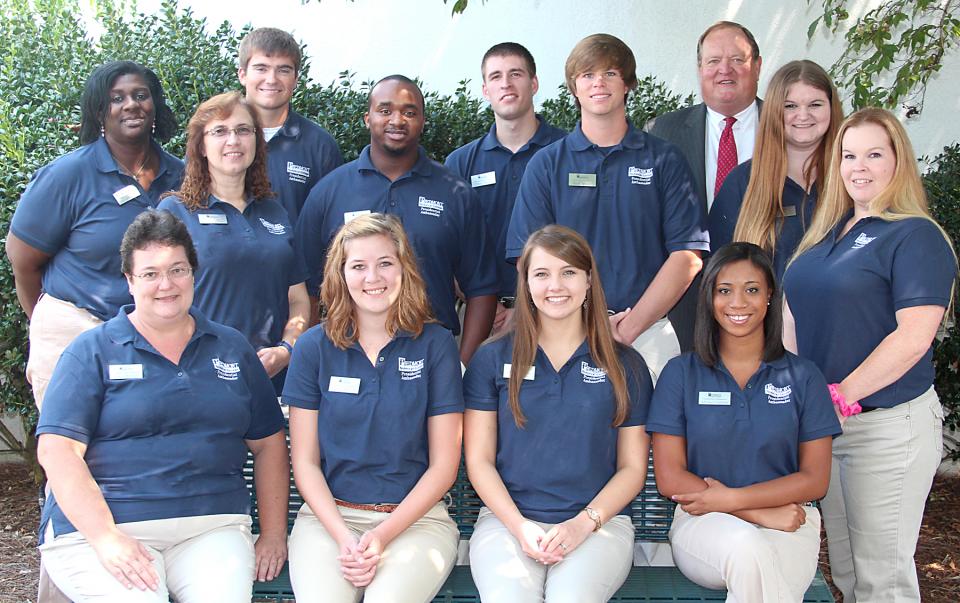 Each year, Piedmont Technical College chooses some of its best and brightest to serve as Presidential Ambassadors. These students represent the college at campus functions, provide tours and speak about their experiences to potential students. This year's select 12 are from a variety of backgrounds, representing many program areas and hometowns, but they all have one thing in common. They all echo a common message of gratitude for the impact Piedmont Tech has had on their lives, both personally and academically.
Erica Bowers was hesitant about enrolling at Piedmont Tech. The Greenwood native was homeschooled and unsure about entering college. But with the help of counselor Brenda Edwards, she is thriving as a computer technology student, majoring in both the Internet concentration and the programming concentration.
"It's been a really good experience," Bowers said. "I feel like I've come out of my shell since coming here." 
Adriana Carpenter of Greenwood knew she wanted to help people, but she couldn't decide the best way to accomplish that goal. She enrolled in the Associate in Arts program at Piedmont Tech with plans to transfer and enter the education field.
"I changed my major several times and felt discouraged," said Carpenter. "All the advisors at Piedmont Tech were really encouraging and helped me find my way."
Kelly Erickson spent several years after high school in a string of dead-end jobs. The Greenwood resident decided to enroll at Piedmont Tech to improve her situation. She is now in the administrative office technology program looking forward to a career in a legal setting. 
"They are so wonderful at Piedmont Tech that they work with me every step of the way," Erickson said. "They care about and understand that I have a family I have to take care of as well being interested in my education and wanting me to be able to remain in school."
Flora Grove-Hunter found herself in search of a new career. The Anderson native thought she wanted to go into computers or become a medical transcriptionist, but circumstances led her in a different direction. She enrolled at Piedmont Tech and soon found herself in the cardiovascular technology program.
"Usually I have a plan for everything I do, but everything I did led me here," said Grove-Hunter. "The most positive experience has been meeting the people and the help they have given me to guide me along the way."
Jeremy Houchins knew he had to attend college after he graduated from high school. He attended Southern Wesleyan University, but he earned a degree in a field he had no desire to enter. He moved to Greenwood and took a job at Eaton which opened the door for him to enroll at Piedmont Tech in the electronic engineering technology program.
"I was at the point where I liked my job, but I didn't want to stay where I was," Houchins said. "My first class in principles of engineering confirmed to me that I was on the right track."
Jessica Magaha of Honea Path followed in her sister's footsteps to enroll at Piedmont Tech. She decided not to enter the nursing program, but instead chose the respiratory care program to help people like herself who suffer from asthma.
"Growing up, I had a lot of very caring nurses and therapists," said Magaha. "I chose respiratory care because you become a practitioner, more focused on one area."
Chad Maxon came to Clinton from upstate New York in search of a change. He found a job, but knew he needed to get a degree. He enrolled at Piedmont Tech in the radiologic technology program and found his niche.
"Not being from this area, I've been thankful for the friendships I've built, not just with my fellow students, but also the faculty," Maxon said.
Lisa Murray spent 14 years in the business world after graduating from Lander University. When she tragically lost her husband to cancer, she decided she needed a change. With the help of friends from her church, she became involved with caregiving and decided that was the path she wanted to take.
"I knew I didn't want nursing, so I started looking into the medical assisting program," said Murray. "I feel like I belong and I have something to focus on for my future."
Michelle Petty is on her second career path. The Laurens resident is enrolled in the associate degree nursing program, but she comes from an education background where she taught middle school.
"The thing I love about Piedmont Tech is we are so community oriented," Petty said. "I love that we are so active with so many different community organizations."  
Kelli Shealy was introduced to the HVAC program while a student at the Newberry County Career Center. He found it was something that interested him. Upon graduation, he transitioned into the program at Piedmont Tech.
"As with many other programs at the college, there are a lot of options that will be available to me," Shealy said. "The career potential is very promising for me."
Erin Smith came to Piedmont Tech with a goal to help children. The Ware Shoals native plans to earn her early childhood education degree before transferring to Columbia College to earn a bachelor's and master's degree in speech pathology.
"The ECD club sponsors a Literacy Alive event each year to promote reading in area daycares," Smith said. "I feel I am really blessed to be enrolled in a college that is actively involved with the community."
Caleb Yarbrough is not your typical ECD student. The Saluda native loves working with kids and wants to work with preschool children.
"The faculty and staff at Piedmont Tech make it a special place to come every day," said Yarbrough. "Being a Presidential Ambassador, I get to help spread that positive attitude throughout the college and the community."
Photo Caption: Each year, Piedmont Technical College chooses some of the best and brightest to serve as Presidential Ambassadors. This year's ambassadors are, front from left, Lisa Murray, Jessica Magaha, Erin Smith and Adriana Carpenter. Second, Michelle Petty, Jeremy Houchins, Kelli Shealy, Erica Bowers and Kelly Erickson. Back, Flora Hunter, Caleb Yarbrough, Chad Maxon and Dr. Ray Brooks.