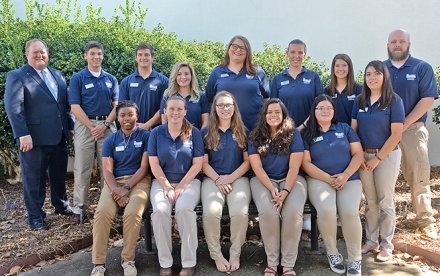 Piedmont Tech Welcomes New Presidential Ambassadors
October 12, 2017
Each year, Piedmont Technical College chooses some of its best and brightest to serve as Presidential Ambassadors. These students represent the college at campus functions, provide tours and speak about their experiences to potential students. This year's select 14 are from a variety of backgrounds, representing many program areas and hometowns, but they all have one thing in common. They all echo a common message of gratitude for the impact Piedmont Tech has had on their lives, both personally and academically.
Jessica Byers has faced a lot of challenges in her life. After leaving high school to have her son, she earned her GED, but spent the next two decades bouncing from one waitressing job to another. At her last position, a co-worker was attending PTC and encouraged her to enroll in the human services program.
"She was able to attend school as a single mother while still working and doing very well," Byers said. "I thought if she could do it, so could I. I knew serving wasn't my future so I knew I had to do something different." 
Jeremy Catoe enrolled in Piedmont Tech right out of high school, but he had no idea what he wanted to do. After taking a few computer technology classes, he decided to take a break and entered the workforce. He worked a variety of jobs in both IT and screen printing jobs, but he always knew he could do more. He decided it was time to go back to school.
"I've always liked figuring out how things work and mechanical engineering technology popped out to me," Catoe said. "I want a job where I can look at a problem and make something better."
Megan Deason came to Piedmont Technical College right out of high school. She always wanted to become a nurse, but she decided to begin in the patient care technology program in Newberry.
"I feel it was a blessing that I didn't get into the nursing program on my first try," said Deason. "I feel like I'll be better prepared after being in the clinical area instead of just going in straight out of high school."
Breanna Driggers knew she wanted to go into health care, so she came straight to Piedmont Tech after graduating from Ninety Six High School. She didn't want to become a nurse, so she chose the radiologic technology program. It has become her passion.
"I really like the excitement and fast pace of emergency situations," said Driggers. "With rad tech, I am still in the medical field, but I can help the patients and then send them on their way."
Hunter Gravely always thought going to college was about playing sports. But a life-changing injury made him rethink his future plans. Having grown up around the construction business, building construction technology seemed to be the perfect fit.
"I'm not the type of person who wants to sit in an office," said Gravely. "I'd rather be outside working in the heat and, at the end of the day, know that I worked hard."
Lloslin Guzman is a first-generation Mexican-American who is using her own struggles as motivation. As a child, she found it difficult to communicate with most of her teachers as she worked to learn English. She is enrolled in the early care and education program at Piedmont Tech with plans to become an elementary school teacher.
"My first two teachers were so nice to me and helped me to adjust as I was learning the language. They inspired me to teach," Guzman said. "I know I won't speak the same languages as all of the immigrants, but I will be able to empathize with them."
Allison Lake followed the normal path of a high school graduate. She attended a four-year university after graduation, but didn't feel at home. She returned to Saluda and entered the workforce, but she still wasn't where she knew she wanted to be. She enrolled in general education courses at Piedmont Tech and, after attending an Open House, she found her fit in the radiologic technology program.
"I knew the compassion in my heart for other people put a desire in me to help others," Lake said. "Through the radiologic technology program, I felt the pull to go into radiation therapy. To be a member of an oncology team became my ultimate goal."
Michael Madden was introduced to Piedmont Technical College through the dual enrollment program. Being homeschooled, he found it was the perfect opportunity to take college courses while still in high school. By taking those early classes, he is close to completing his associate in science degree and is looking to transfer to a four-year university. He plans to pursue a degree in computer engineering and go into cybersecurity for a federal agency.
"Piedmont Tech has given me a really good start," said Madden. "I have a really big interest in cybersecurity and cyber-intelligence. I'm hoping to get an internship or even a scholarship with the CIA or NSA."
Katie Magaha came to Piedmont Technical College unsure of what she wanted to do. Health care interested her, but she didn't know what field. After talking with two co-workers who were enrolled in the radiologic technology program, she decided that was for her.
"I wanted something that's always going to need jobs," Magaha said. "The medical field is always progressing. There's always something you can do."
Mesha Triplin has her career goals mapped out. Already a member of the South Carolina National Guard, she is working toward commissioning and becoming an officer in the Army. She is enrolled in the computer technology program with plans to transfer to Coastal Carolina.
"Because I'm already in the National Guard, I get to exempt a lot of the beginning steps," said Triplin. "Wherever it takes me, I will go."
Hailey Owens has always wanted to go into the medical field, but she knew she didn't want to be a nurse. Her counselor at Emerald High School had her research different careers and she was captivated by the radiologic technology program and veterinarian program. She started with pre-veterinarian classes, but decided that wasn't for her.
"I wanted to see if I could make it to vet school, but I decided I didn't want to be in school that long," Owens said. "I really wanted to be in the medical field and there are so many options available from the radiologic technology program."
Estefania Vera came to America at the age of 3 and found a lot of challenges because English was her second language. But, she was lucky and had several teachers who were very helpful. Those teachers became her inspiration and she enrolled in the early care and education program.
"I want to focus on the students who English isn't their first language," Vera said. "I want to be that teacher who lays the foundation for every other career."
Jamie Walden has a wealth of experience helping the public. Right out of high school, she became a dispatcher. She spent 10 years as a police officer for the city of Columbia and then two years with Clinton Public Safety, which included becoming a firefighter and a first responder. But, it's her personal life that has led her to enroll in the associate degree nursing program at Piedmont Technical College.
"My daughter has an extremely rare condition," Walden said. "I was tired of trying to educate myself online, so I enrolled in nursing school. Going through this process has given me a new sense of the importance of nurses and I want to be that person who is there."
Ariana Ware has always been interested in animals. She considered attending veterinary school, but she wanted to go right into working. She found the veterinary technology program at Piedmont Technical College's Newberry Campus to be just what she was looking for.
"I knew I wanted to work with animals, but I didn't know where to start," Ware said. "My high school veterinary assistant teacher told me about a career in vet tech. I loved that the veterinary technology program can open up so many different doors for me beyond just being a veterinarian."
Presidential Ambassadors share their stories one-on-one, in small groups, and as part of panel discussions. Ambassadors also answer questions related to academics and campus life.
The Presidential Ambassadors are a select group of second year students who are chosen to represent the president, the college and their program of study. These students are selected on the basis of their academic achievement, college and community involvement, leadership skills and potential and a willingness to give service to the college. Students are selected to provide a broad picture of the "typical" PTC student.
Photo Caption: Each year, Piedmont Technical College chooses some of the best and brightest to serve as Presidential Ambassadors. This year's ambassadors are, front from left, Mesha Triplin of Greenwood; Hailey Owens of Greenwood; Katie Magaha of Donalds; Ariana Ware of Newberry; Lloslin Guzman of Greenwood; and Estefania Vera of Honea Path. Back, Dr. Ray Brooks, PTC president; Michael Madden of Ware Shoals; Hunter Gravely of Hodges; Breanna Driggers of Greenwood; Allison Lake of Saluda; Jamie Walden of Laurens; Megan Deason of Pomaria; and Jeremy Catoe of Greenwood. Not pictured is Jessica Byers of Ninety Six.