Piedmont Tech Welcomes New Presidential Ambassadors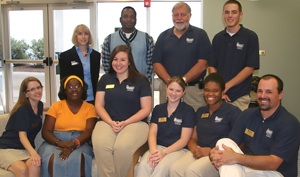 Each year, Piedmont Technical College chooses some of its best and brightest to serve as Presidential Ambassadors. These students represent the college at campus functions, provide tours and speak about their experiences to potential students. This year marks the 20th group of Presidential Ambassadors and they are from a variety of backgrounds, representing many program areas and hometowns, but they all have one thing in common. They all echo a common message of gratitude for the impact Piedmont Tech has had on their lives, both personally and academically.
Greenwood native Lyndia Belcher spent more than 20 years in the banking business before deciding she wanted a change. She came to Piedmont Tech in the early care and education program before switching to human services. Her goal is to work in counseling with children.
"I had a dream a long time ago to counsel children," Belcher said. "I want my concentration to be with young parents and their children because there is so much information that doesn't reach who it needs to reach."
Edward Evans found himself in the position that many South Carolinians have faced after being laid off from his job. The Gray Court resident came to Piedmont Tech's electronic engineering technology program because of the electrical experience he gained working with his father.
"He basically knew everything and I picked it up from him and I enjoyed it," said Evans. "It's hard, but if you want it, you can do it."
Lanina Goode holds two bachelor's degrees from Lander University, but chose to come to Piedmont Tech to pursue an associate degree in nursing. The Greenwood native wanted to do work more with people, something a nursing degree will provide.
"With the business degree, I was working in a cubicle eight hours a day and I'm too much of a people person to be confined to a box," Goode said. "With nursing, I know I'll be able to do more hands-on work with patients."
Greenwood resident Lee Johnson came to Piedmont Tech when he was laid off from his job and told he needed more education. After working for industries that have closed, he wanted a change. His wife, who is a nurse, inspired him to go into health care. He enrolled in the respiratory care program and is excited about the program.
"I never realized I would be doing this," said Johnson. "The high energy of the job and helping people is something I have found I really enjoy."
Kaylynn Knight traveled all over the country with her mother before settling in Ninety Six. She wants to work with special education students and chose to start at Piedmont Tech in the associate in arts program before transferring to Anderson University.
"I plan to dual major in special education and psychology," Knight said. "The biggest piece of advice I can offer new students is to get involved. PTC has so many resources available for students and I urge others to take advantage of this by joining clubs or participating in the Student Support Services program."
Walt Lordemann came to Greenwood from Nebraska with his job but, like many people, was laid off as jobs were being outsourced. He decided to reinvent himself and enrolled in the business management program at Piedmont Tech.
"I knew I wanted to get into business management and learn what it would take to own and run a profitable company," said Lordemann. "I now have a new attitude on life and a saying: 'A person is never too old to learn new things.'"
Elizabeth Morris has dreamed of becoming a nurse for most of her life. Born in Mexico, Morris and her family came to the United States when she was eight and then on to Saluda when she was 12.
"I came to Piedmont Tech because I always heard they trained the highest quality nurses in the state," said Morris. "Plus, the new facility in Saluda was very convenient for me to take my pre-requisite courses."
Kasey Page always knew she wanted to go into radiology. The Lowndesville student wanted to go into the health care profession, but she didn't want the pressure of nursing. She looked at several area radiologic technology programs and chose Piedmont Tech.
"Piedmont Tech is close to home and very convenient for me," said Page. "I am very lucky to have such great instructors in this program."
Aaron Walker came to Piedmont Technical College to carry on a family tradition. Walker is from the small town of Bradley where his father is a cabinetmaker. Upon graduation from Greenwood Christian School in 2010, he enrolled in the building construction technology program.
"I love that the BCT program allows me to apply what I learn in the classroom to actual hands-on building projects," said Walker. "My classes are small and my instructors take a personal interest in making sure each student succeeds."
Tammy Capps Walker enrolled in the associate in science program at Piedmont Tech with the desire to transfer to Clemson University and become a registered dietician. For the Epworth native, the desire to work with food allergies is very personal.
"My oldest daughter suffers with severe food allergies," said Walker. "Clemson is the only place in the area where I can get everything I need to sit for my license, but I wanted to get as much as I could locally. Piedmont Tech has been a God-send."
Photo Caption: Each year, Piedmont Technical College chooses some of the best and brightest to serve as Presidential Ambassadors. This year's ambassadors are, front from left, Tammy Capps Walker, Lyndia Belcher, Kaylynn Knight, Kasey Page, Lanina Goode and Lee Johnson. Back, advisor Carol Paguntalan, Edward Evans, Walt Lordemann and Aaron walker. Not pictured is Liz Morris.