PTC Benefactors and Community Leaders Honored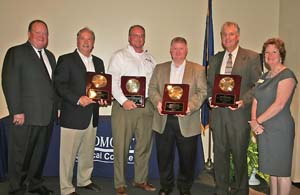 Benefactors and community leaders joined together at Piedmont Technical College recently to celebrate the successes of the past year with the annual benefactors' event.
Fran Wiley, Piedmont Technical College Foundation executive director, welcomed those in attendance. The event was to honor Cornerstone Society members and benefactors who had contributed to the growth and success of the college.
"Tonight is all about those who support the college and about the many people who generously give," she said as members of the Cornerstone Society were recognized.
Dr. Ray Brooks, president of PTC, thanked the donors on behalf of the students.
"We have the privilege and opportunity every day to work with students who are seeking out a career to better themselves and their families," he said. "Without this Foundation, that would not be possible."
Special recognitions were made for two long-time supporters of the college. Eaton Corporation in Greenwood and AdvanceSC were honored with special awards.
"There are so many that help this college," Wiley said. "Without scholarship funds, without funds to improve programs, we couldn't do it."
The Eaton Cooperation and Piedmont Technical College have been business partners for many years. The three Eaton businesses in Greenwood – Eaton Electrical, Eaton Hydraulics and Eaton's Engineering Services and Systems – combine efforts annually to submit a funding request to the Eaton Charitable Fund on Piedmont Tech's behalf.  With the assistance of contributions from Eaton, Piedmont Technical College has upgraded the equipment in the Engineering and Industrial Technology division to better prepare students for the work force.
AdvanceSC is a limited liability company established by Duke Energy. This organization is committed to advancing education to support industry, assisting other economic development organizations to attract and retain industries, enhancing the competitive position of manufacturers and supporting public assistance agencies in Duke Energy's South Carolina service area. AdvanceSC has awarded more than $64 million in grants to Upstate organizations since its inception in 2004. Since 2005, AdvanceSC has awarded the Engineering and Industrial Technology division of Piedmont Technical College numerous grants. These grants were used to construct the Project Lead the Way labs, expand the Welding program, upgrade the Machine Tool Technology program, initiate the Mechatronics Technology program, enhance the Diversified Agriculture program and support the WorkKeys testing and maintenance training for area employers and employees.
Photo Caption: In recognition of their support of Piedmont Technical College, two area businesses were honored at the recent Cornerstone Society event. Pictured are, from left, Dr. Ray Brooks, president of Piedmont Tech; Theo Lane, district manager of government & community relations for Duke Energy South Carolina, representing AdvanceSC; Tim Wideman, operations manager for Eaton Engineering Services and Systems; Trey Fenner, plant manager for  Eaton Electrical; John Thompson, plant manager for  Eaton Hydraulics; and Fran Wiley, Piedmont Technical College Foundation executive director.