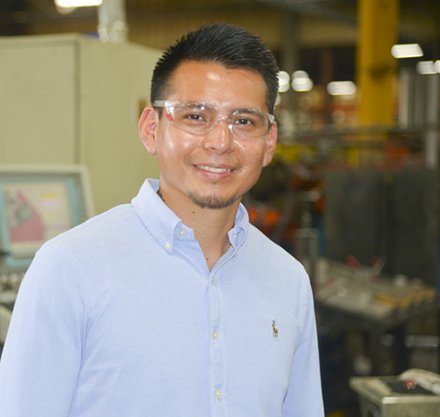 PTC-SC State Bridge Graduate Lauds Progressive Leadership at MEC in Greenwood
August 23, 2018
As he paddled a turbulent section of the Chattooga River between South Carolina and Georgia, Orlando Carrillo couldn't help but take an engineer's interest in the various rock formations and the patterns of rushing water circumnavigating them.
"I remember thinking about the water and the danger of the hydraulics," Carrillo said. "You try to understand how the water assumes a circular motion. I think that is very interesting from an engineering perspective."
"The Bridge Program at SC State was designed specifically for people like Carrillo. It brings the classroom to the student, on a platform the student is very familiar with.
~ Stanley Ihekweazu, SC State 
The Piedmont Technical College (PTC) alumnus presents anything but the science nerd persona one might expect. He has played soccer all his life and enjoys rugged outdoor sports that include skydiving and ― yes ― whitewater rafting. Even before he earned his associate in mechanical engineering technology, Carrillo was employed as an engineering technician at MEC (Mayville Engineering Company) in Greenwood, an employee-owned metal fabricating enterprise founded in Wisconsin with locations in multiple states. He went on to earn a bachelor's degree through PTC's Bridge Program with South Carolina State University (SC State). He's now been with MEC for four years, during which time he was promoted to manufacturing engineer.
The SC State Bridge Program enabled Carrillo to "transfer" to SC State without having to commute to Orangeburg. Instead, through an articulation agreement with PTC, he was able to stay in Greenwood and complete courses toward a SC State bachelor's in mechanical engineering technology on the Greenwood campus.
"The Bridge Program at SC State was designed specifically for people like Carrillo. It brings the classroom to the student, on a platform the student is very familiar with. Carrillo took advantage of the Bridge Program's uniqueness, and the rest is history," said Stanley Ihekweazu, chair of SC State's Department of Civil and Mechanical Engineering Technology and Nuclear Engineering. "The program is still open for those students whose jobs cannot allow them to travel to Orangeburg to complete their bachelor of science degree in electrical engineering technology or mechanical engineering technology. SC State goes to them."
"Based on my personal experience, I often recommend Piedmont Tech to others. I have friends who attend there now because I talked to them about the college," he said. "The professors understand that a lot of the time you are not coming straight from high school and have responsibilities with a full-time job, and some students may have kids. They show that they are willing to work with you. … With PTC's flexible schedules, online learning and night classes, I was able to finish my degree while working."
Carrillo's relationship with PTC began at the college's Center for Advanced Manufacturing (CAM) in Laurens, where he was taking basic classes to learn machine programming. While there, professors encouraged him to consider the mechanical engineering technology program. After receiving his computer programming certification, he enrolled in the engineering technology program. During that time, several PTC instructors left a lasting impression.
"Everything in the world is 3-D," he said. "At first, I didn't understand it completely. But my instructor, Christina Knight, was able to explain it to me. Now I use 3-D modeling every day. Any time I draw something, I remember some of the valuable lessons she was able to transfer to me."
Another instructor took his students on multiple field trips to local area manufacturing facilities, including Eaton and Prysmian. "What was memorable to me was to see how engineering could be applied in the field," Carrillo said.
Meanwhile, Carrillo is making an impression at MEC, a company that has provided him opportunity and valuable, constructive experience.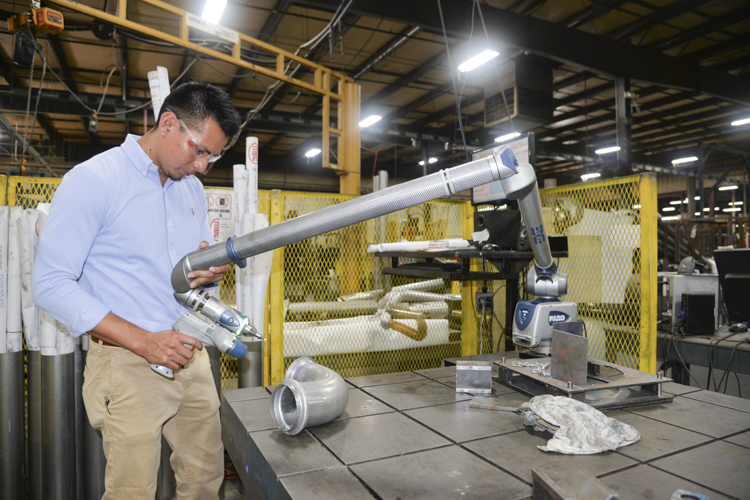 "It's fun working here," he said. "I have a great team. Every day when I go to work, I feel like I really want to be there. Everyone is willing to help you. You work as a team, and you know that you are not by yourself."
One occasion that truly conveyed the company's customer commitment and inclusive work culture came as Carrillo's team was preparing for an important customer launch. One of the company's top corporate officials traveled from Wisconsin to South Carolina every week for more than six months, going home only on weekends.
"He was actually doing some of the work, right alongside us," Carrillo said. "He was working with us every day. He showed us that we are all the same. This is who we really are."
When he thinks about the future, Carrillo says he would like to try some different roles in the years ahead. He plans to work toward an MBA from the University of South Carolina Upstate. "I want to do something perhaps in project management," he said. "I will look at possibilities within the company and continue my education."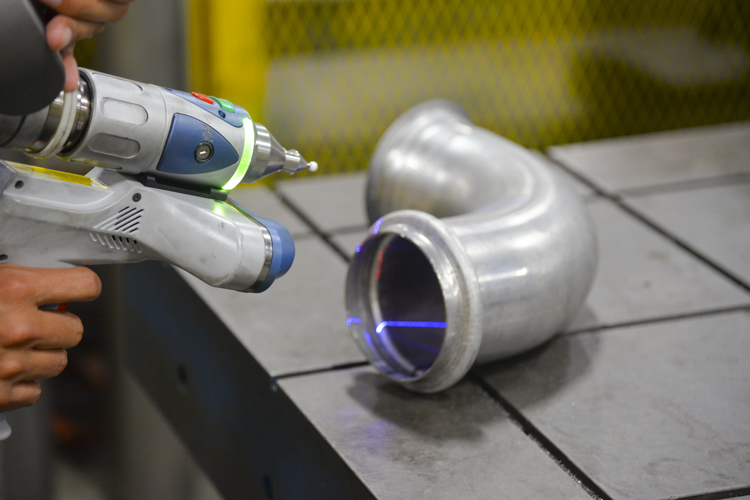 PHOTO CUTLINES
Orlando Carrillo on the floor of the MEC plant in Greenwood.
MEC provides custom metal fabrication, tube bending and coating services to a variety of markets.