PTC Students Travel to State House for Lottery Assistance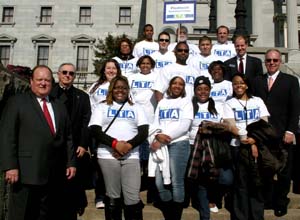 A group of students and staff from Piedmont Technical College joined nearly 300 SC Technical College System students at the State House recently to show their support for the Lottery Tuition Assistance (LTA) program. Speakers included Dr. Darrel W. Staat, System president; Sen. John Courson, R-Richland, chairman, Senate Education Committee; Rep. Phil Owens, R-Pickens, chair, Education and Public Works Committee; and Raymond Hudson, an LTA recipient and student at Central Carolina Technical College.
More than 300 LTA recipients from the System's 16 technical colleges marched to the State House, wearing shirts proclaiming "Thank you for LTA." One-third of all technical college students in South Carolina receive LTA funds. Nearly 40,000 students statewide receive Lottery Tuition Assistance, which amounts to about $900 per semester for those enrolled full time. Over 70 percent of the students attending Piedmont Tech receive LTA.
"This is something we fought for five or six years ago to get in the budget in the Senate Finance Committee and the House Ways and Means Committee and we are going to keep that money in the appropriations bill," said Courson.
"The group assembled here today demonstrates how important Lottery Tuition Assistance is to the students of the South Carolina Technical College System and, ultimately, to our state," said Staat in addressing the crowd of students. "Since 2002, over 330,000 students have benefitted from LTA."
"Our system's 16 campuses provide education and workforce training availability," said Owens. "The Lottery Tuition Assistance funds assure accessibility."
Piedmont Tech students were excited by the positive response from the legislators.
"Lottery Tuition Assistance means that I can continue in school," said Lyndia Belcher, a human services student from Hodges. "I do not receive enough benefits to go to school without this help. It allows me to stay in school and complete my degree."
"This is very important to me because I would not be able to pay all of my costs for my education," said Mary Dunlap, an early care and education student from Greenwood. "It is very important for our government officials to realize how much we need this support."         
The Lottery Tuition Assistance program was created by the General Assembly in 2002 for public two-year institutions. Unlike merit-based lottery-funded aid, award amounts are not guaranteed from semester to semester, and fluctuate based on lottery collections and student demand.
For more information, go to www.sctechsystem.edu.
Photo Caption: Students and staff from Piedmont Technical College joined hundreds of SC Technical College System students gathered at the State House recently to show their support for the Lottery Tuition Assistance (LTA) program. Attending the rally were, front, Dr. Ray Brooks, PTC president; Rufus Sherard, Area Commissioner; Regina Fadden, Greenwood; Juleshia Reid, Greenwood; Tiffany Jackson, McCormick; and Brittany Calliham, McCormick. Second, Kaylynn Knight, Ninety Six; Vernessia Wideman, Greenwood; Edward Evans, Gray Court; Lyndia Belcher, Hodges; and William Whitfield, PTC Area Commission chairman. Third, Mary Dunlap, Greenwood; Aaron Walker, Bradley; Jorge Alvarado, Greenwood; and David Rosenbaum, associate dean of students. Back, Devin Etheredge, Greenwood; Walt Lordemann, Greenwood; and Lee Johnson, Greenwood.