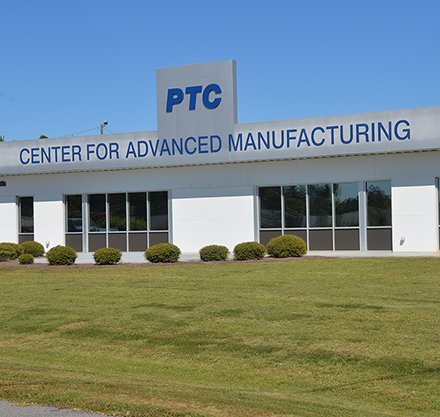 PTC to Unveil New Lab and Training Space in Laurens County
March 28, 2018
Piedmont Technical College's Center for Advanced Manufacturing (CAM) in Laurens County cordially invites members of the community and the media to tour new labs and an additional 4,800 square feet of flexible training space recently completed at its high-tech training facility at 109 Innovation Drive in Laurens. The Phase III construction unveiling will take place at a ribbon-cutting ceremony on Thursday, April 5, from 5-7 p.m.
Since it opened in 2012, phased construction at the CAM has been made possible by a partnership between Piedmont Technical College, the PTC Foundation, county and city governments, Laurens County Economic Development Corporation and local industry. The facility initially was planned to provide readySC™, a division of the South Carolina Technical College System, with a dedicated space to meet ZF Group's initial training needs in collaboration with PTC industrial faculty. However, industry leaders throughout the county have recognized the center's potential to benefit their operations and have encouraged, as well as contributed to, its growth.
The CAM houses laboratories and classrooms, including equipment to support welding and mechatronics training, which will benefit industry and the residents of Laurens County for years to come by providing the local workforce with a means for upgrading their work skills with relevant technology-based training.
The College asks that those planning to attend the ribbon-cutting and tour RSVP by April 2 to Sally Cooke, (864) 941-8302 or cook.s@ptc.edu.
PHOTO CAPTION
The Piedmont Technical College Center for Advanced Manufacturing in Laurens County.